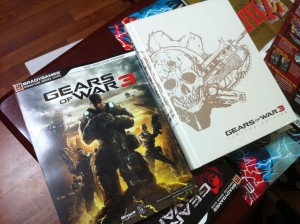 BradyGames had their own strategy guide giveaway for Gears of War 3 this week, and it seems only fitting that we'll host one as well. So yes, we will be giving away both a Limited Edition and a Signature Series copy of the Gears of War 3 strategy guide. How do you enter? It's very simple.
There are three ways to enter, and each method of entry will count as one entry.
Follow @strategyreviews on Twitter and then retweet the announcement of this giveaway.
Be a fan of SGR on Facebook and post a comment on the wall post that announces this giveaway.
Post a comment right here on this blog post.
So if you retweet, comment on Facebook, AND comment on this post, that means you have three verified entries in the contest. The drawing will happen at 4 p.m. CST, just in time for the weekend.
Please note that I have one new rule for this giveaway. Guide giveaways are for residents of the United States only. I will still ship to international winners, but only if you agree to pay for shipping. I'm really sorry to impose this restriction, but shipping overseas is outrageously pricey for books. Please don't hate too much.
With that unpleasantry out of the way, good luck!
P.S. The Limited Edition of the Gears of War 3 strategy guide is unbelievably awesome.