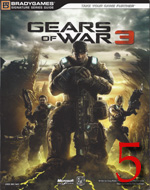 The Gears of War franchise is not known for being overly complicated in terms of gameplay, and Gears of War 3 is no different. However, those dead Gears sure do hide their COG tags in some quirky spots, and some of those bosses seem to take longer than they should. Here is where the beauty of the Gears of War 3 strategy guide comes in. As a result, you will find all the collectibles in one go and cut down on potential frustration levels with some odd sequences, thereby opening the doors for finding more time for multiplayer, Arcade, and 4-player co-op modes.
I played Gears of War 3 twice over the last week–once with a friend and once by myself. When I played with my friend, I only consulted the guide once because 1) he didn't care to stop and look for every collectible and he wasn't going to restart a chapter if I missed one and 2) I was really curious to see how different playing the game would be with our strategies vs. the guide's strategies. The answer is: we made it very hard on ourselves.
I dreaded fighting certain areas alone because my partner and I had some struggles with them; struggles that I thought could only really be easily overcome when you had another real brain playing along with you. While I'm convinced that the game had some amped up difficulty with the more live bodies playing along with you, I owe a lot of my success to the guide's strategies.
For example, I would never have figured out how to break into the Locust base using stealth in Act 3 without the guide. The only way to do it is with the Hammerburst rifle, something Marcus didn't have. The guide suggested that I should try to trade weapons with Dom, which was something I had no idea I could even do. That was definitely not in the tutorial! Once I swapped out the Hammerburst, it was a snap. When I played co-op with my friend that night, I told him to let me handle the stealth part, and he thanked me profusely. He even admitted that he wouldn't have thought of using the Hammerburst (and why would you? It's a least favorite weapon).
The same goes for all of the collectibles. I never would have looked in some of these odd places for half of these collectibles or even a couple of the COG tags. In other instances where I did notice where to pick up collectibles, I couldn't have gotten them because I missed where to find a hidden Silverback. Taking time to hunt down all of these collectibles added a bit of time to my solo-run campaign–especially when I realized too late I missed them and had to restart a chapter–but it is nice to have it done without needing to go back and replay some chapters. Now I can save additional replays for Arcade mode and playing 4-player co-op.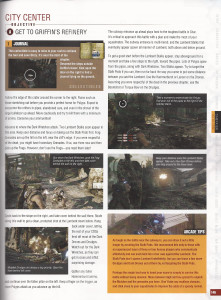 The strategy guide's design was absolutely flawless in presenting not only the guide's strategies, but also callout notes for the collectibles, extra tips just for co-op play, and tips for Arcade mode (see image to the right). Thanks to the placement of the notes for collectibles and their coordinating screenshots, there is little doubt as to where these elusive tidbits are hiding. Even if you get a little confused as to their exact location, there are always the maps to at the start of each chapter to show the way–which also nicely pinpoint all weapon caches and hidden Silverbacks. In addition, any game artwork that was included in the main walkthroughs was kept separate from the rest of the content, so it was never fringing upon the text or strategy screenshots. It's another fine example of how artwork doesn't have to impede on the overall usefulness of a strategy guide's design.
The Gears of War 3 game was a fine sendoff for Marcus and Dom's story, and the Gears of War 3 strategy guide couldn't have done it any better justice. This is the perfect accompaniment to the game for completionists and for hardcore collectors of the series. The guide is beautiful on the outside and inside and contains sound strategies. One really can't ask for anything more in a strategy guide.
SGR Rating: 5/5
Authors: Doug Walsh, Phillip Marcus, and Michael Owen
Publisher: BradyGames
Editions Available: Limited Edition and Signature Series
Acquired via Publisher