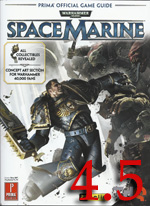 Warhammer 40,000 Space Marine is a fast-paced shooter/hack-and-slash combo game that is quite linear and leaves little room for exploration. So what's the point in having a strategy guide?
Actually, there's plenty.
Space Marine moves so quickly that it is very easy to be overwhelmed by the literal hordes of enemies that overrun you, and its unusual gameplay of constantly alternating between melee and range weapons can be equally as overwhelming. In addition, since it is so linear, it's easy to miss all of the collectibles, which come in the form of servo skulls–floating red skulls that leave audio recorded messages (I never said it made sense as to what they are). Normally collectibles aren't all that important to the game, but in order to truly understand the gravity of the situation at Graia and learn about the deep character development for the supporting cast, finding all of these creepy skulls is a must. Not to mention, if you're a Warhammer 40,000 fan at all, you're going to want the Space Marine strategy guide just for all of the bonus materials.
The main walkthrough itself is designed well, but it's only written okay. The start of each chapter presents a table of all the servo skulls available, the pages of the guide they can be found, new weapons to be obtained, new enemies to be encountered, and what Achievements can be earned. Much to my disappointment, no maps were included. The scenery does change quite often, so each chapter would require quite a few maps, but it's still a little unforgivable that there are no maps whatsoever. Oftentimes, the writing is a little confusing as to exactly where a servo skull or desperately needed weapons cache is hiding. A map would have eliminated this confusion. Maps would have also been very welcome for the last chapter that required lots of platform jumping to find the main path.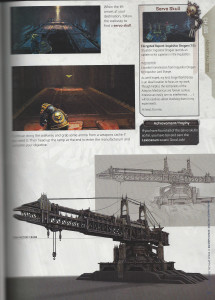 At least there are plenty of screenshots that do a halfway decent job to showing the way, and the pages' layouts help point out exactly where you will find every servo skull.
The walkthroughs for the boss fights and supreme horde overloads–really not a better name for them–may not have strategies that will work for every player style, but at the very least, they do prepare you well for what unspeakable horrors are coming. They also provide great tricks and tips for switching the styles of combat and weapon recommendations. For example, I wanted to use a the heavy bolter for one of the final battles since it served me so well in other battles, but the guide suggested to use the lascannon. After one round of realizing that it's really hard to dodge with the minigun and it doesn't do as much damage as I thought, I conceded to the guide's advice and discovered its wisdom.
The guide's appendices are fairly thorough, but I would have liked to have seen some advice for some of the odd Achievements. For instance, one of the Achievements requires that you use only a stalker-pattern bolter and a chainsword for your weapons for one chapter. I would have liked a recommendation for which chapter this is best to try, especially since you can replay any chapter at any time.
With lore as deep as it is in Warhammer, you can expect that the bonus features of the strategy guide will be just as deep and enriching, and you would be right. All of the bonus artwork, especially the concept artwork (as shown on the scanned page to the right), is gorgeous and right up the alley of any Warhammer fan. However, for someone like me who knows nothing of the Warhammer universe, the bonus features presented a whole new and fascinating world to me. The history of the Space Marines was examined, the main characters were thoroughly detailed with background information, and a bit of the Warhammer 40,000 lore was explained. None of it was necessary for understanding the game, but it made me far more interested in the franchise than I ever would have been otherwise. The background info for the main characters also gave me a deeper appreciation and understanding for what was going on behind-the-scenes for the characters, especially with Inquisitor Drogan.
Much like the game of Space Marine itself, the strategy guide appears to be something easily overlooked and unneeded, but it doesn't take long to see how much of a hidden gem it really is. If you absolutely must find every collectible, master every weapon, and destroy every enemy as quickly and as brutally as possible, then the Space Marine strategy guide is a definite must. If you are a fan of Warhammer 40,000, then owning the guide is simply a no-brainer.
SGR Grade: 4.5/5
Author: Michael Knight
Publisher: Prima Games
Editions Available: Paperback
Acquired via Publisher