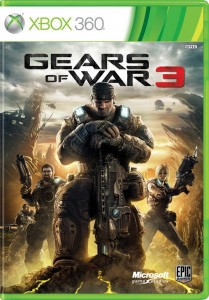 Chances are, if you had any inkling to buy Gears of War 3, you've already bought it or are planning to buy it, no matter what reviews say. The Gears franchise kind of has that Halo stigma about it; if you loved the first games, you're going to buy the next. If you've never looked at Gears of War before, you probably won't look at the third, no matter what reviews say.
However, that's not going to stop me from spilling what I think, or in this case, pointing you towards where I spilled my thoughts on Gears of War 3.
I reviewed the game for Gaming Angels, and as you can see from the following excerpt, I raved about it.
To say that the first Gears of War was a bit lacking in story is a gross understatement. The second game was vastly improved, and this final game was light years of improvement even upon that. Instead of Delta squad sort of falling into various missions throughout the game, this time they have a clear mission: rescue Adam Fenix from a stronghold known as Azura and help him implement his weapon that will "solve" the Lambent problem. They don't know what or where Azura is or how they will get there, but at least they have some direction as to where they need to go. It's definitely an emotional rollercoaster for all involved, and the ride is a bit longer than it has been before, but the story is a brilliant sendoff and closing chapter for the series.

Of course, the storyline isn't the only improvement for Gears 3. This time, the action always occurs with parties of four, which allows for four-player co-op for the first time in the series. One of the best parts of this new feature is that the groups of four are not always the same, so players, even those playing as "Player 1," will have the chance to play as different characters. Different characters don't have different abilities, so the experience isn't that different, but at the same time, it's refreshing to occasionally play as someone other than Marcus or Dom. For me personally, I was ecstatic to be able to play as Anya and Sam, just to have something different from the usual four Delta Squad members.
Yeah, I loved it just a teensy bit; enough to play the game twice within a week–once co-op and once solo. This is also the first time I have ever, EVER joined in a multiplayer game. I played Horde mode with some random people a few times and found it to be more fun that I would imagine. I still haven't ventured into the Versus mode yet, but I think I will eventually since I've been told that's the best multiplayer to play by yourself. I'm also wanting a solo run-through on Arcade Mode and some four-player co-op action. And I rarely play games more than once.
I could sit here and rave about it all day. If you want to see more of what I have to say about it, please go check out my review on Gaming Angels. Hopefully I'll see you online!