I have recently discovered that cross-stitching is fun.
I have never been into sewing anything before, or really done anything artsy and craftsy. I admire my friends who are into it and good at it, but it's definitely not my cup of darjeeling. A few weeks ago, however, a friend sent me an Etsy link to a cross-stitch of Cave Johnson's (of Portal 2 fame) rant about making life take the lemons back. I thought it was hilarious and bought it, thinking it was the completed stitchery. I was emailed the pattern instead–see what happens when you don't read?–and instantly had an "Oh, fuck" moment. I showed it to my husband, told him I wasn't sure what to do, and he promptly hauled me to Michael's to buy everything I would need to do it myself. He ensured me it was easy and that I would like it. I think he's secretly hoping I get into cross-stitching and give up gaming forever since it's so much cheaper.
I did have to look up how to start the process, since the only real stitching I had ever done before was with needlepoint with stamped patterns, but once I discovered how easy it was, I've had a great time with it so far.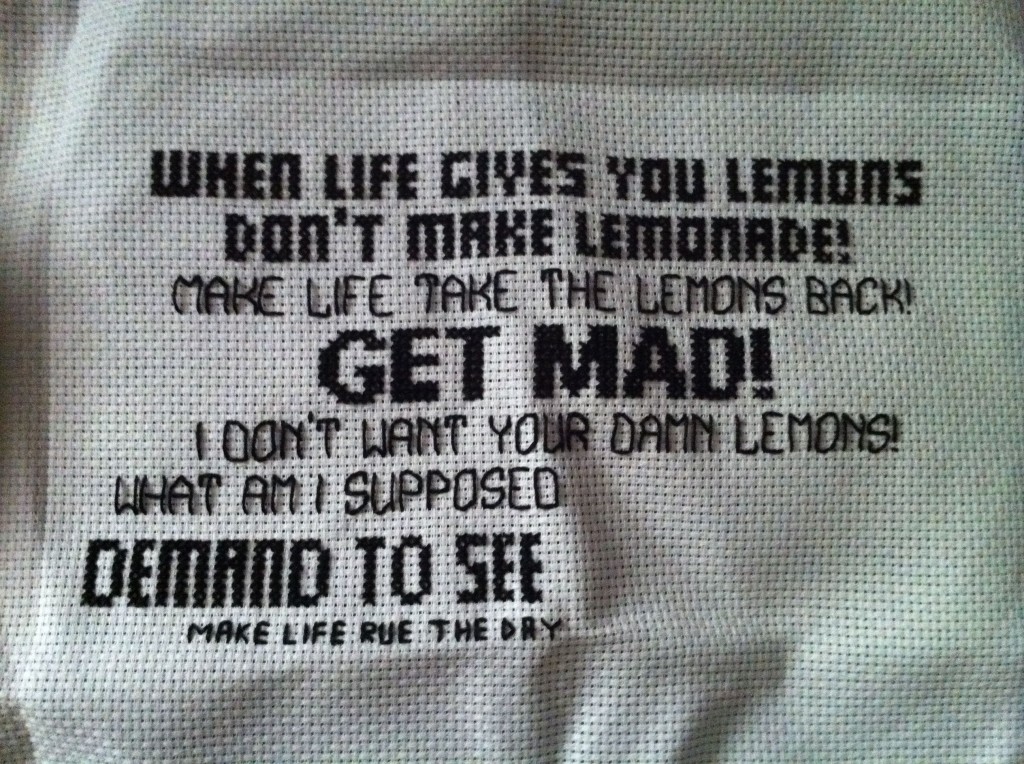 I've actually already bought another pattern from Etsy, a Mass Effect one, so it looks like this artsy craftsy phase will continue a little while longer. I may need to try to make a Crimson Omen one as well.
And speaking of Crimson Omens, I was tapped into another round of Gears of War 3 last night. A couple of friends were playing and asked me to join in, and it wasn't until after I played one chapter with them that I found out we were playing on Insanity. I have just now started to play around with Hardcore mode, so I kind of panicked at playing Insanity at all, much less with other people. I was not prepared for really how hard it was, and even though it took us 2 hours to get through a couple of chapters, I had an absolute blast. Once we got a rhythm going and developed effective ways of communicating what we were doing, we rocked it. I can't wait to play with at least that many people again, on Hardcore or Insanity. I wonder how many times I will beat Gears 3 in the end…and I kind of don't care. It's just that much fun.
I heart Delta.