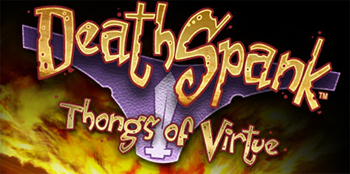 Last week I finished my solo-run of one of my favorite games this year–Gears of War 3–and while I know it's high time I get back into Deus Ex, I really wanted to play something from my stack of shame over the weekend.
Since my PS3 hasn't had an ounce of love since inFamous 2, I rifled through that stack, even though it's definitely the smaller of the two. I settled on Enslaved: Odyssey to the West. I had heard great things about it, and many people told me I would be fine with it even though it's technically a platformer game. In that aspect, they were right. The platforming is actually easier than the inFamous games, which makes me not want to call it a platformer at all, but that's beside the point. After playing for two hours, I realized that the only reason why the game was even tolerable to me was because I had the strategy guide.
I'm not a fan of stealth, I really don't like the combat, and I don't like constantly telling Trip what to do–seriously, that's why I never played Ico. I can see why so many people liked the game, however. It's vibrant, the gameplay is unique, and it has a compelling story. It's just most definitely not for me. I have so many games on my plate that I really can't waste time on one that I don't find fun in the first two hours, so out of the PS3 it came and onto Amazon.com it went. (I have my Enslaved strategy guide for sale there too, if you're interested.)
After that debacle, I flipped through my PSN games to see if I had anything in there I hadn't finished. Surely I had something that wasn't a Final Fantasy game. And lo, I did: DeathSpank: Thongs of Virtue. I loved the first game to pieces, and I bought the sequel shortly after it released but I got caught up in who knows what. The third one has been out for awhile now too, and I really want something short and light and fun, so really, what game could be better? I can't think of anything.
I'm such an idiot for not playing Thongs of Virtue sooner. I laughed so hard within the opening seconds that I was wiping tears. The game is so ridiculous and witty, not to mention fun. I know I'm not saying anything anyone doesn't already know; it's more of a repeated smack to the head as to why I wasn't playing it sooner. I cannot make the same mistake with The Baconing.
Lunch needs to get here sooner today so I can have lunch DeathSpank. Oh yes, that is my plan for the next few weeks.