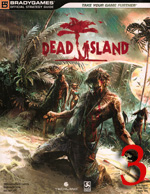 It's the perfect time of year to go on vacation, so pack your bags and be sure to pack plenty of sun screen, swimming trunks…and hatchets. Because we are going to Dead Island! This place is HUGE so you will want a tourist guide to see all the sights on your stop here.
When you first get past the opening experience the game opens up and allows you to tackle objectives at your own pace so it is not as linear of an experience as most games. This is where the Dead Island strategy guide comes in, with a somewhat open world type game there are always collectibles and little "off the beaten path" easter eggs.
Going through the main quest and side quest walk throughs the guide will let you know when you are near an ID Card or one of the many facts and tapes in the game, of which collecting a certain amount of them of course leads to a precious Trophy/Achievement. Usually to get a better look at where a collectible is on an open world game, you have to look it up on YouTube to see it in game and get a better idea of where it is, but the guide shows you a map and a picture of it in the game making it easy to snatch it up!
There are four characters each with their own skill tree and abilities, and the guide tells you all about them and the play style they take on. I have never seen a way to reset the stats on the points you spend so reading all about the skills in the guide helps to make a decision on what to dump points into.
The maps for each act help give you bearing on where to go as it is easy to get lost and wander off when trying to go after collectibles. Before using the guide I found myself being distracted running around trying to search every single room for a card or fact. With the guide I was able to get every collectible in the first play through so on subsequent play throughs all I had to do was enjoy the game.
Now on to the downside of the guide. I never really had to use the guide for quests as the game tells you plainly where to go and even throws you a GPS guided dot system. This is not the guide writers fault, but it does make the guide less useful for knowing how to complete a quest and more useful for collectibles/maps.
In Dead Island you get to craft your own weapons, kind of like Dead Rising 2. There are quite a few combinations you can throw together to make devastating zombie killers and this guide does tell you what the ingredients are, but it does not tell you where you can get these items. The stores that sell items are often randomized but there are places you can go that always have for example duct tape or batteries and wires and so on when loading that zone. They could have thrown in that "Two rolls of Duct Tape are always found in the Lighthouse Tower repair room beside the repair table and a spool of wire directly across from the table."
One other negative I have for this guide is that there are no extras. Usually with every guide I have reviewed so far there are concept art galleries, developer commentaries and just neat little facts about the game. This guide has none, but I will say the artwork and illustration of the guide are very well set up, I would have just liked to see some extras though.
Overall I would say the guide is not mandatory reading, but it does help for collectibles. In my opinion I would have rather used this guide for the collectibles than looking them up on the Internet. Reading about the character classes was useful too, but if you do not care about stuff like that or hoarding collectibles for a Trophy/Achievement and just play the main quest line, then you will not necessarily need this guide. I give it 3/5 zombie hands.
Guide Authors: Tim Bogenn, Michael Owen, and Kenny Sims
Publisher: Brady Games
Editions Available: Paperback
Acquired via Publisher