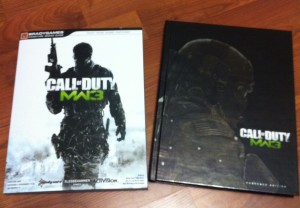 Without a doubt, Modern Warfare 3 is one of the most anticipated games this year, pretty much like how it is every year. This game will sell more copies in the first week than most games could hope to over the course of a year, simply because for many people, this is one of two games they buy all year. It's well known for having both a fun campaign and multiplayer counterparts, but it's just as well known that most people play it strictly for the multiplayer. As such, BradyGames' Collector Edition of their strategy guide was pretty much strictly for multiplayer fans.
This CE has a nicer cover and additional artwork in the fly pages, but that is all the extra it contains in its innards. It has an extra tactical guide for the multiplayer maps that stands up on its own for easy map viewing. It's spiral-bound too, allowing for easy flipping through as you switch from map to map. On the back of each map are the different versions of each map for all six types of multiplayer matches you can play, as shown below.
Overall, I was a little disappointed. I like to see more come with a Collector's Edition than just a flip chart for multiplayer maps. Extra artwork, developer interviews, a portion of the game soundtrack, even an attached cloth bookmark…any one of those things.
Unless you just really dig the multiplayer to the point you could see yourself constantly using these maps, it's hard to recommend shelling out the extra money for the Collector's Edition. If you're looking into getting the guide for MW3, pick up the paperback, Signature Series edition instead.