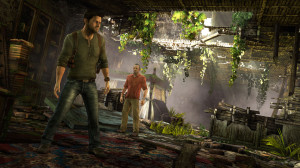 I know that the cool thing to do right now is to hate on Uncharted 3, but I just can't. The game is just too much fun and it's too easy to be swept away in the cinematic nature of well, EVERYTHING. I have to keep reminding myself that certain sequences may seem like cut scenes, but they aren't and I have to keep Drake moving or I'll get the little black-and-white screen of death.
It also helps that I'm ten times more at ease with Uncharted 3 than I was with Uncharted 2. Before Uncharted 2, the last shooter-styled game I played was Doom II when I was in college. Playing inFamous before UC2 helped, but having super-destructive lightning powers is much easier to manage than effectively aiming and shooting a gun. I was way out of my element and I nearly rage quit at least twice–still mad at two specific helicopters. I didn't go near a shooter game again until Mass Effect, and well, I think we all know what happened since then.
I'm not nearly as stressed about shooting this time, so I have considered going back to UC2 and giving it another go, now that I think I can handle shooting at a helicopter from a train accurately. But hell, that's kind of a laughable thought. I'm worried about finishing UC3 before Skyrim releases. And it looks like I may be reviewing MW3 for GA.
Seriously, this November may kill me.