I'm currently reviewing Halo: Combat Evolved Anniversary for Gaming Angels, and I have been half-looking forward to it and half-dreading it. I've been looking forward to it because I wanted to see what everyone was so hyped up on. I was dreading it because everyone was so hyped up on it. I was sure I was going to hate it, just because I have a tendency to hate what's popular, but I was hooked before the first level was over.
The gameplay is a ton of fun, and I really like the story. I have to admit that the appearance of the Flood disappointed me as I've played numerous games with a similar plot mechanic. Of course, then I had to get over that disappointment and remind myself repeatedly that Halo came way before any of these other games. That led to me getting disappointed in a lot of games, like Gears of War 3, so I had to stop that road of thought.
My biggest complaint about Halo is that all of the indoor levels are exactly the same. Sometimes, it's literally exactly the same, like in the Two Betrayals level. Master Chief does nothing but run around in circles. Sometimes the circles go up, and sometimes they go down. But they're still circles. And they look the same. Thank God the gameplay is so fun, because otherwise the levels would bore me to tears.
The boys at Penny Arcade really said it best: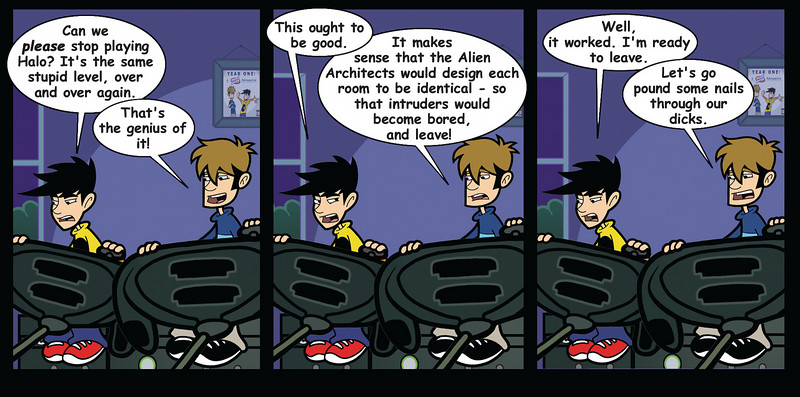 Let me emphasize once again: I like Halo. I'm having a lot of fun with it. I'm looking forward to playing the next few games. It's just that the original Halo was not perfect by any means, and I do have some criticisms…like I do with other games. Believe it or not, I have some gripes about the Mass Effect games.
Now if you're looking for some entertainment about my criticisms with Halo, then I recommend that you all download and listen to the latest episode of the EvilCast, where I make my EIC fanboy so mad, you can hear him choking on his anger.