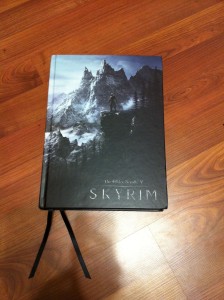 Most likely due to the massive size of the Skyrim strategy guide, the Collector's Edition doesn't really offer much more than the paperback edition in terms of extras. The hard cover is gorgeous, no doubt. There are also two cloth bookmarks within, which are perfect for marking where you are in the main story and where you are in sidequests. The only extra content the CE provides is a download code for an interactive map:
The interactive world map includes over 150 location maps covering all 9 Hold cities. Each map shows the locations of every vendor, trainer, skill book, NPC, and unique item in the realm. You can toggle points of interest on and off and zoom in and out.
That said, I have to admit that I highly recommend splurging for the Collector's Edition.
Why?
The guide is so massive to begin with, you might as well spend the extra $10 for a nice cover and included bookmarks. You may never use the interactive map, but you'll never regret buying the beautiful hard cover. For a game like this, I can't see a reason to NOT buy the CE over the paperback. If I could have gotten my hands on a copy of the Dark Souls strategy guides, I'm sure I would have recommended the same.