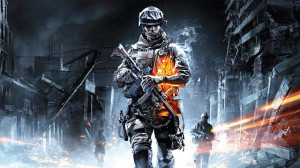 I just realized that I never wrote up my thoughts on Battlefield 3 over here; there's only my review on Gaming Angels. The game has been out for awhile, and while I strongly urge everyone to read my review on GA, I feel the need to share a little of what I think here. It won't take very long.
Battlefield 3 was my first "real" first-person shooter since the days of Doom II on the PC when I was in college. I was nervous that it would be a rough experience, but I was able to slide into it rather easily. Once I shook off the nervous feeling, I started to have fun. That was sadly short-lived.
BF3 is one of the most unbalanced games I've ever played, probably second to Arc Rise Fantasia. It constantly switched from being boring to being hair-pulling frustrating and back in nanoseconds. Same goes for the story. It initially had me, and then I would drop interest in the next chapter. And then I would get intrigued again, just to drop out in the next scene or so.
Not to mention, the ending was a complete let-down, in both story and gameplay.
BF3 should have been a multiplayer-only game. That is where it excelled, it's not boring, and the gameplay never gets stale. The biggest problem there is learning how to fly a helicopter without a camper blowing you up with a rocket launcher. I still hate helicopters.