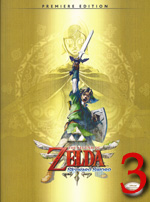 Here we are, 25 years later and Link is still spelunking through various dungeons in a quest to save a princes who cannot manage to keep from getting herself kidnapped. It seems that no matter how many times we have to save this stolen royalty, Nintendo always seems to make a game that is entertaining, familiar, and enjoyable. Unfortunately while Skyward Sword brings its A- game to the table, the Skyward Sword strategy guide from Prima Games appears to have brought its B game. However, all is not lost on this guide.
The guide starts players off with a nice breakdown on basic game mechanics, items and their corresponding locations. From there Prima gives a brief biography of the main characters before finishing the section off with a small map of The Sky world and a chart breaking down where to find the Goddess Cubes tucked away throughout guide. Overall this is a nice start and the details of the items is very helpful.
The main walkthrough is where things seem to sidestep into a mishmash of good and evil. Each major area and temple are broken into their own sections with the step-by-step instructions flowing in the same manner you would likely travel about the world in the quest to save Zelda. Each of these sections begins with a rudimentary map and any heart containers/goddess cube displayed. The maps could be a bit more detailed, but they work well enough.
Things start to deteriorate when it comes to how monsters are listed along with tips and strategies. First, there is no beastiary listing every monster in the game, but rather the monsters receive little blurbs tucked away throughout the book. I did find this to not only be distracting in the flow, but a game like this does benefit from all the monsters being broken down in a section all their own. Next are the tips and strategies given. I found these to either be exceptionally helpful or completely useless, if not almost game breaking. If you plan on using this guide verbatim then do take warning that you have a 50/50 chance of these aiding you in your quest or making simple tasks unnecessarily hard.
The last part of the guide details the various side quests, of which there are not a lot of in the game, item upgrades and where to find upgrade materials, and a collection of maps. I found the upgrade portion to be valuable as it not only details the items you need, but it also tells you what the result is and where to pickup hard-to-find materials. It is a small section, but one that I used plenty.
The last issue I have with the guide, of which I received the Collector's Edition, is the unnerving sound of pages tearing as you flip them due to the gold leaf applied to the edges. It is almost as if a soda full of sugar had spilled on the pages prior to shipping. The guide was just fine, but it is still not a sound you want to hear with every page turn.
Now, where the guide shines is in the artwork, included cloth map (Collector's Edition only), and the way it does not provide spoilers. This is one guide that I really enjoyed the included artwork. There are a lot of assets plucked from the game, but the hand drawn pieces are just amazing and fit extremely well with the overall look of the game. The blue and gold cover, and the problematic gold leaf coated pages, is simple yet elegant. It is also enjoyable to have a guide give you direction without desiccating major plot-lines.
This guide does an okay job of helping you through the game, but keep the internet close by as there are fan guides that do an excellent job of guiding you through the game. It is hard to recommend this at its current cost, however. If you must have the book then go for it, otherwise wait for it to drop in price before splurging.
SGR Rating: 3/5
Authors: Alicia Ashby
Published By: Prima Games
Editions Available: Paperback, Collector's Edition
Acquired via Publisher