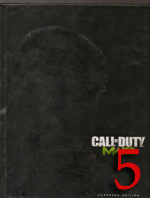 It is time to strap up once again in something a little more modern when I review the Call of Duty: Modern Warfare 3 Limited Edition guide! Gather the intel I have collected through experiencing the game with the guide to see if you need it to stop the invasion.
This new outing in the Call of Duty franchise packs a lot of new game modes and gear. This guide will help catch you up to speed on the new weapons, gadgets, and how the new perk system works. This was good for me since before the game came out I avoided reading anything about it to help keep it fresh so I was out of the loop when it came to the assault, support, and other 'Strike Packages' that help you earn rewards for killstreaks and taking out enemy support. This was a plus to me as it was really well written and the art surrounding the information looks great.
Just like any other Call of Duty, this one of course has Intel to collect for trophies/achievements. I found the guide very easy to follow for finding all of them during the campaign. Some guides make you feel a little lost as to where the item actually is but this shows a picture as well as a good description.
Staying with the trophy/achievement subject, the guide also tells you about them and how exactly to get them in the best way. This is a huge plus from me as everyone knows I love my trophies! The less I have to look online to find info on attaining a trophy the better.
The multiplayer has also changed some this year with the added Survival mode. This has you taking on waves of enemies across every multiplayer level. Their's maps and tips on how to go about equipping yourself each round and maximizing your money. The Special Ops missions are also detailed here and they have to be the hardest ones yet. Way harder than MW2 in my opinion and luckily this guide has tips for those as well. I have not made my way through all of them yet but I am a little over halfway and this guide has helped me get a lot further than I would have with these blood pressure inducing difficult missions!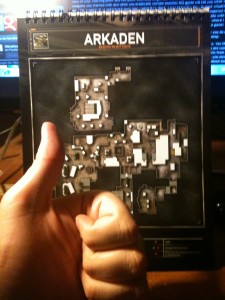 One thing I notice about every Call of Duty guide I have gotten so far they seem to be the most detailed when it comes to the multiplayer. Every weapon has a recoil profile laid out and various information on the weapons and equipment help you build a class that's top notch. I always like reading these just to know the ins and outs of each weapon. There is also a section detailing the challenges and how to complete them as well. These are great as most of them net you tons of XP and a neat Emblem or Title sometimes both!
Just like the Black Ops Limited Edition guide, this one comes with that cool map stand I called during the Black Ops guide review the "Shelf of Help" is ready to be deployed and help you dominate the competition as you learn all of the twists and turns of the maps. These levels seem more loose almost like a maze at some points so it is nice to know of the spots you are open at.
Overall I have to say that BradyGames has done it again with this guide. It feels like an encyclopedia almost with all of the information it contains. The ONLY thing I would want more of is some nice concept art. The pages are really well designed and the aesthetic of the whole book is great but some nice art at the end would have been cool. I definitely recommend this to anyone who is a Call of Duty freak and likes to read about guns…even of the virtual kind. I used the guide to beat campaign on Veteran and I have referenced it up until I got to the first prestige option on multiplayer.
I have to give this guide 5 Prestige Tokens Out Of 5.
SGR Rating: 5/5
Authors: Michael Owen, Phillip Marcus, Jason Fox, Arthur Davis, and Michael Fry
Published By: BradyGames
Editions Available: Paperback, Limited Edition
Acquired via Publisher