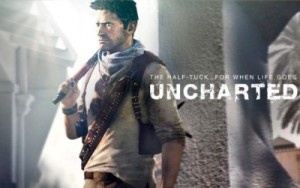 Oh yes, you read that title correctly. This past week, I actually finished two games, one of which I was convinced I would never finish this year. First on the list was Uncharted 3.
I agreed to write a review for Gaming Angels, so I can't go into much detail here, but I will say that I don't understand all the hatred toward this game. I'm willing to admit that the aiming patch most likely helped, but I didn't find combat too difficult either way. Maybe it's because I'm not stellar at shooters. I did not think that the enemies were bullet sponges though, something that many people accused the game of having. Now did I think they were cheap? YES. How many grenades do these bastards carry? Thank God I got decent at the throwback technique or I would have just gotten really good at fleeing. A lot.
Also, my favorite chapters in the game were with the ship graveyard and the cruise ship, which were apparently the most hated chapters on the internet. Shooting villains from the water cracked me up every time. Bob up, shoot, dive down and swim away.  Fighting in water was different; no other Uncharted game delved into that, and I haven't played a game that really captured the physics of what it would be like to try to aim while in water or standing on a boat in rough seas. My husband watched me play these levels, and his response to them was, "See, this is why I didn't join the Navy."
I'm about to go into stuff that I'll have to include in a review, so I'll leave off this now and just plead with any of you who have not tried this game due to grumblings on the Internet to please give it a chance. Uncharted 3 has made its way into the top five games for me this year. If I was decent at consistently making headshots, I would try for the Platinum trophy. But I really think I will replay the game on Crushing. I also want to replay Uncharted 2, now that I'm a bit of a better shooter than I was when I first played it. Maybe I won't hate the helicopters as much.
Next game I beat was Deus Ex: Human Revolution, the game I swore was going to sit in my stack of shame to 2012. I took a me day last Friday and focused on wrapping this game up. As much as I loved the story and unique gameplay of DXHR, I was greatly, greatly disappointed with the endings. I was also disappointed with the final boss. I had the one weapon you needed to take down the final boss in one shot. So yeah, in five seconds, the fight was over. And then my "choices" came in…UGH. So many great ways this game should have ended. It felt like the writers didn't know how to end the game, so this is what they came up with. I felt like no loose ends were tied, and I walked away with zero desire to play the DLC.
But I'll get more into DXHR when I write my little mini-review here.
Lastly, I did try out Assassin's Creed Revelations over the weekend. All I can say now is that this is the first game in the franchise that I feel was 100% milked like an Activision game. Since this post is quite long as it is, I'll save that discussion for a later date. This week though, I shall overcome my fear and start Skyrim. If there are no posts here for the next three months, you'll know why.