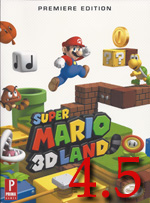 Super Mario 3D Land is Nintendo's newest Mario game and quite the killer app for their 3DS platform, fusing together classic 2D and 3D gameplay to form something newer and more different than previous installments in the Mario franchise. With SM3D Land, Nintendo has hidden a number of areas and objects throughout, which could be easily missed by even the most hardcore of gamers. Luckily, Prima Games has Mario fans covered with quite the comprehensive and easy to navigate guide that will help them find every secret that Nintendo's latest classic platformer has to offer.
Prima's SM3D Land guide, first of all, is tremendously easy to navigate. The guide has clear pages with easy to read text, easily noticeable callout boxes that don't distract from the natural flow of the guide, and world names written on the edge of the guide's pages to enable easy navigation to wherever gamers need to look in the guide. The guide has bright colors, but no color too bright or distracting for the player. The guide's intro section shows all of the moves and enemies in SM3D Land and even has a page on how to navigate the guide, which is perfect for those gamers who may never have used a strategy guide before.
The Walkthrough section of the guide has a map with an overhead view of each level. The map is marked with the locations of power-ups, various items of interest, and the end goal flag locations. A legend on each and every map is present so that these noteworthy items can be noticed and found easily. The map is also marked with numerical "points" that correspond to identically numbered sections in the Walkthrough. The points are areas of interest, Star Coin locations, or trouble spots.
The guide's advice in the Walkthrough is just about as spot-on as guide advice could possibly be. For the most part, the guide leaves very little to the imagination and explains in detail what players need to do in order to advance. Nearly every single area of each level is covered and what exceptionally little isn't is easily able to be figured out by just playing through and using the map, although first time Mario gamers playing SM3D Land may need to pay close attention at times. For core gamers or gamers who know Mario well, the tiny bit not covered won't be a problem in any way, but could prove to be a tiny bit troublesome to newer gamers who need more help.
Prima's Super Mario 3D Land Premiere Edition Guide is a must-buy for any gamer who might need help with SM3D Land, from the gamer who may need help playing through the game to the Mario fan looking to uncover every secret. The guide has extremely reliable advice, is easy to navigate, and helps gamers find every hidden area and Star Coin that they could possibly need. Few guides are as useful and easy to navigate as this one and any gamer who's purchased a copy of SM3D Land should consider buying a copy of this guide as well.
SGR RATING: 4.5/5