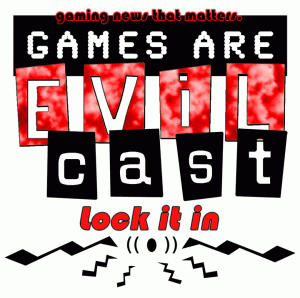 Not sure if I've mentioned it before here or not, but I'm a member of a podcast hosted by GamesAreEvil.com, the website that allowed me to go to E3 last year. I am no longer writing for that site, but I am still on the podcast. I'm not sure why. They say they need a voice of reason, but I'm convinced they're masochistic. If you already listen to the podcast, you know what I'm talking about.
But that's not important or the point of this post. Every year, our ringleader compiles a podcast episode that is nothing but our outtakes and snippets of jokes gone awry.
As we draw the curtain closed on another fine year of EvilCasting, it only seems appropriate to take a look back at the year that was 2011.  Sure, some podcasts might whip up some fancy Year in Review segment, but they probably have a budget, not to mention standards.  Instead, we bring you the biggest flubs, bloopers and bashes of the year, all wrapped up in a convenient downloadable package.

All of the EvilCast crew would like to thank the listeners for making 2011 such an amazing year.  It has been a pleasure to be invited into your earholes each and every week.  Here's to the hilarity continuing in 2012!
If you only listen to one podcast, make this one be the episode you listen to. You may not get all the jokes, as some of them are quite abstract and have the air of "you-had-to-be-there", but I can guarantee you will laugh through most of it. If nothing else, you can hear what I sound like and how awful my mouth is.
Visit my old stomping grounds to download it and/or subscribe to it in iTunes or Stitcher.