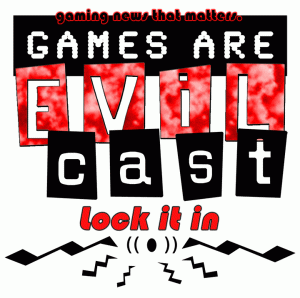 As promised, the latest EvilCast is up where Blake and I go on and on and on about the Mass Effect 3 demo. And about the Mass Effect universe. And…you get the picture. We're huge ME fans, and it's hard to shut us up about it. I could probably create my own ME podcast, but no one would listen to it. I would have fun, though.
Here's more on the podcast:
Breaking a streak that has been running nearly since the podcast's inception, Ross misses his first EvilCast Recap in nearly two years.  While not quite as unexpected but still missed, Chris couldn't make it out this week either.  So that leaves Blake and Keri to carry the podcast torch, with a little help from a couple of mystery callers to be revealed to listeners later.  Luckily, the dastardly duo had plenty to discuss such as the upcoming release of the PlayStation Vita, Notch looking to kickstart a little bit of game development of his own, and GameCenter making the jump to OS X.

In the place of a Top 5 this week, there was a lengthy discussion that was close to the hearts of both co-hosts: Mass Effect 3. Listen as both listeners and the panel discuss all things Mass Effect 3 demo and what is upcoming for the franchise going forward.  Don't worry, things will be spoiler free!
So take a listen, will ya?
DOWNLOAD | SUBSCRIBE IN iTUNES
Podcast: Play in new window | Download
Subscribe: Apple Podcasts | Android | RSS