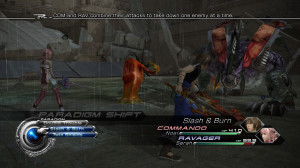 I had a very hard time writing up my review for Final Fantasy XIII-2 for Gaming Angels. I had a lot of fun playing the game, but the story never grabbed me. JRPGs are always a little hard to swallow, but this one never once connected for me, even after the big reveal of what is really going on. So I don't rage all over again over here, here's a sample of what I wrote:
Let's just get this out of the way: the story is awful. For starters, I couldn't stop seeing the similarities between this and Final Fantasy X. Tidus was sent to future to save the past. This story's protagonist, Noel Kreiss, was sent to the past to save the future. Noel even looks like a hybrid between Tidus and Yuna. And here's another similarity for you: Noel is a Guardian tasked with protecting the Seeress. Sounds too familiar, doesn't it? Unlike FFX, however, Noel and Serah jump back and forth time at a fairly regular basis.

And here's why that is so. Instead of the ending we all remember from Final Fantasy XIII, Lightning was snatched away by the goddess Etro, making everyone believe that she is part of the crystal pillar holding up Cocoon with Fang and Vanille. Only Serah remembers her standing there with everyone else, laughing and giving Snow and Serah her blessing. Lightning is in Valhalla, fighting forces of Chaos on behalf of the goddess. (Sound like Dissidia, anyone?) She sends Noel, the last living human from the future, to Serah, to bring Serah to Valhalla and save the future. Of course, Noel and Serah can't just go straight back to Valhalla; they have to jump all over the timeline to find the way back. And while they're there, they might as well solve any problems they find, right? The story is exactly as weak as it sounds, and it even dares to end with a "TO BE CONTINUED" like it's a Back to the Futurefilm. So yes, there will either be a Final Fantasy XIII-3 or lots of DLC. Either way, it means that they sold an incomplete game.
That said, I do admit that I have gone back to play some more of FFXIII-2, so I can see the alternate endings and basically go trophy hunting. The sidequests were the best part of the game, so I'm happy to get all the satisfaction I can from them. Not to mention, I'm trophy hunting a little too. I know I won't get a platinum just because I refuse to finish one particular fragment quest, but there are plenty of other gold and silver trophies to be had.
My trophy hunting aside, I cannot recommend anyone buy this game, even if you loved Final Fantasy XIII. Borrow or rent. If the "TO BE CONTINUED" aspect doesn't scare you off and you love the story, then buy it. If you're iffy about anything else, save your money. Ye has been warned.