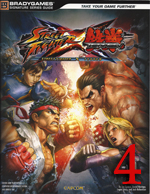 Gaming worlds have once again collided and we are graced with a fighting game bringing characters from two different universes together. What sets Street Fighter x Tekken apart from something like the DC/Mortal Kombat mash-up is this game mixes two very distinct fighting styles, and does it well. This happens to be where BradyGames, and their Street Fighter x Tekken strategy guide, bring knowledge and guidance to us noobs that are taking our first bite of this Capcom cake.
Anyone who is familiar with a BradyGames fighting strategy guide will feel right at home here. The first 49 pages explain to the controls, mechanics of the fighting system, and general knowledge of the new styles introduced into this game. Remember, Capcom took what makes Street Fighter great and blended it with the mad juggling found in Tekken. This portion of the book is vital to the understanding of the nuances, and complexities, of this new setup. Yes, you trophy/achievement hunters have a breakdown of these right here too.
The bulk of the pages following dive into the characters included on the disc that are not DLC. Vital info such as specific character stats, forward dash movement broken down by fames, jump distance, and basic attacks are listed. From there, combos, special moves, and an overview of how to play said brawler finish off each character detail. Pictures depicting the moves along with easy to follow charts aid those looking for quick info without needing to do heaps of reading.
Rounding off the guide, the back is full of character art and concept drawings. This is a nice touch as it adds a little eye candy to enjoy while providing a glimpse at how the game came together during development. It may not be something you stop and gawk at every time you crack the spine, but it is fun to flip through while sipping on morning coffee.
This guide is standard fare for BradyGames. I found little wrong with many of the strategies on different characters, and the charts showing all the moves is much nicer than having to dig through the in-game menus. However, I did have some issues with this guide. Unlike the Marvel vs. Capcom and Ultimate Marvel vs. Capcom guides, this one did not carry the pizzazz and cohesiveness of the video game. Where the pages of MvC/UMvC resembled comic books, this was rather plain. I did like the winning quotes displayed and the character art at the beginning of each fighter, but that was pretty much all you got for eye candy and bringing the video game presentation into the guide.
Another issue, which is not so much a fault of BradyGames, is the lack of DLC characters. We already know there are characters on the disc, but they are missing from the guide. I realize this maybe due to some PR with Capcom, but this seems like a big portion of info that is not included. I am also curious how this guide will translate when the Vita version hits (look for that article here in the future).
Overall, this is yet another excellent fighting guide from BradyGames. I would have liked the aesthetics of the book to match the game more, but that is a minor gripe to all the tips and tricks it divulges. If you are looking to duke it out in this mixed up world, then this is your roadmap to greatness and well worth picking up alongside your purchase of the game.
SGR Rating: 4/5
Authors: Joe Epstein, Daniel Maniago, Josh Richardson, Logan Sharp
Publisher: BradyGames
Editions Available: Paperback
Acquired via Publisher