I've kind of had and RPGtastic week this past week with both Kingdoms of Amalur: Reckoning and The Witcher 2. Sad to say, I've already gotten a bit bored with Reckoning just because the number of sidequests are not only overkill, but they're virtually the same. They also rarely affect anything in the main storyline, so I decided to limit my sidequesting to just the faction quests and the main story.
They're still boring. It sucks. The combat is really a lot of fun and I really want to like this game. I have a feeling, though, that the game is best played in short bursts and sporadically so that you aren't spending hours at once playing the same quests. A Twitter friend said that Reckoning was incredibly padded, and I'm starting to definitely feel that. Such an incredible shame.
I broke it up a little bit to sample The Witcher 2 before I went on the EvilCast that night in order to discuss it a little with Ross. HOLY CRAP that game is hard. The combat is ungodly complex, and there's so much to remember to do that the tutorial (that was specifically added for the console version) is almost worthless.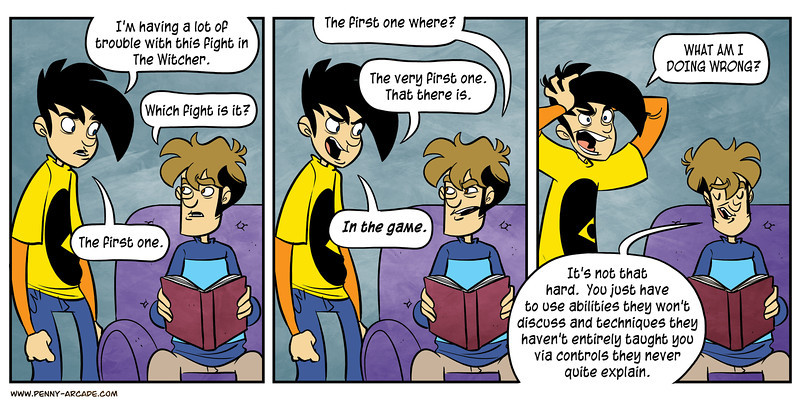 If it wasn't for the guide, I never would have survived my first battle. Note I didn't say first boss fight; I mean my first regular fight with grunt knights. I also need the guide just to remember how many spells Geralt has at his disposal. I'm so used to being led along and gradually introduced to spells and combat techniques. This one literally throws everything at you, kicks you out the door, and says, "Yeah, have fun out there!" This is going to be one interesting ride, that's for sure.
Since I went out of town this weekend, no Halo 2 was accomplished, but I did manage to get some much needed Vita time. Finally checked out Escape Plan, a game I bought way back around the Vita's launch but never got around to. That is one adorably frustrating game. I see the appeal, and it's fun for the most part, but my lack of patience makes it very difficult for me to play it for long periods of time. I have to admit though…all the ways Lil and Laarg can die are quite hilarious.
I meant to play some Uncharted: Golden Abyss on the return flight, but instead, I zonked out while listening to music. Sad…maybe. But I really enjoyed that nap.