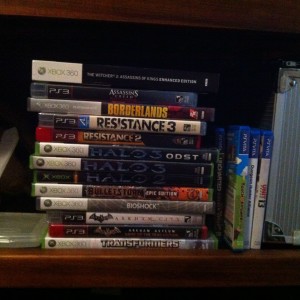 Ah yeah, it's official. I will be going to E3 2012 with the Gaming Angels, which means I'll have plenty of tidbits to share with all of you about the games I see and hopefully I'll meet with the guide publishers again. I had an absolute blast at all three of those meetings.
And so, as a result of this recent development as well as learning of a few of the appointments I will be taking at the show, I've had to completely readjust my stack of shame. I am GA's shooter expert, and I've already been told that I will be analyzing Halo 4. That's great and all, but my OCD personality needs to have all the information before I go in there, which means I need to play all zee Haloz gamez. The three I have are back in the stack. Dear God I hope that the campaigns are typical shooter campaigns–a/k/a short due to multiplayer–and they aren't as long as the first game. I'm still surprised at how long Halo: Combat Evolved was.
Transformers has also returned due to the possibility that Fall of Cybertron will be at E3. Well that and I just want to play the freaking game.
I have Borderlands in the list in the off-chance that I'll have an appointment with Borderlands 2. I find that to be highly doubtful as I fully expect my boss to threaten to beat my ass for it. Either way, I have to prep for that game's release in August.
Whether I have an appointment or not, I want to have ACR finished before E3 so I can once again be fully informed for AC3.
Of course, this all needs to be worked in midst my current review schedule, which consists of Binary Domain (of which I'm almost done), The Witcher 2, and Kingdoms of Amalur. I'm not sure what has possessed me to try to take on two massive RPGs at once, but I never have once claimed to be sane.
Wish me luck! This is a very tall and most likely impossible order.