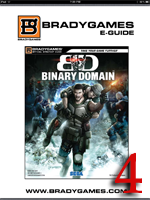 I had zero expectations for both the game Binary Domain and the e-guide Brady Games released. I'm not a huge fan of e-guides thanks to experiences with the horrific writing in GameFAQs guides and the current disappointment that is the IGN wikis. But this is Brady Games, so it should have some sort of high quality standards that's different from the usual online guides, right?
RIGHT.
Unlike most e-guides on the market, this is a PDF download that you can use on your computer, your iPad, or even your Kindle Fire (as I did). I actually couldn't use my Kindle Fire for very long, because a lot of the PDF file didn't survive the transition and conversion. On the iPad, however, iBooks converted the links perfectly. Score one for iBooks. No content was lost, so don't think I mean that. All of the inner document links, however, were. I couldn't interact with the maps, tap forward to different chapters, leave bookmarks, etc. On the iPad though, there were zero problems.
The most important of these links were the map links. At the start of every scene, the guide had a mini-map of sorts that was clickable. Once it was clicked/tapped, it transported the user to the back of the guide that had more detailed and large-scaled maps for each scene. These maps displayed all of the collectibles and stores in the area. Normally I would hate this, because that requires some unnecessary and inefficient page flipping for something that should be all together. However, since the maps also had a nifty in-page link back to the chapter, at least it made the back-and-forth tolerable.
Overall, the guide was pretty fantastic. If I had been following the guide closely enough, I would have earned more achievements than I did, such as the SECURE-COM packet collectibles, finding and shopping at every store, and finding every piece of DNA. At least now I know I can definitely do all that when I play it again at a later date.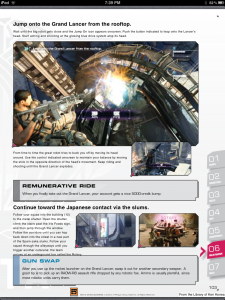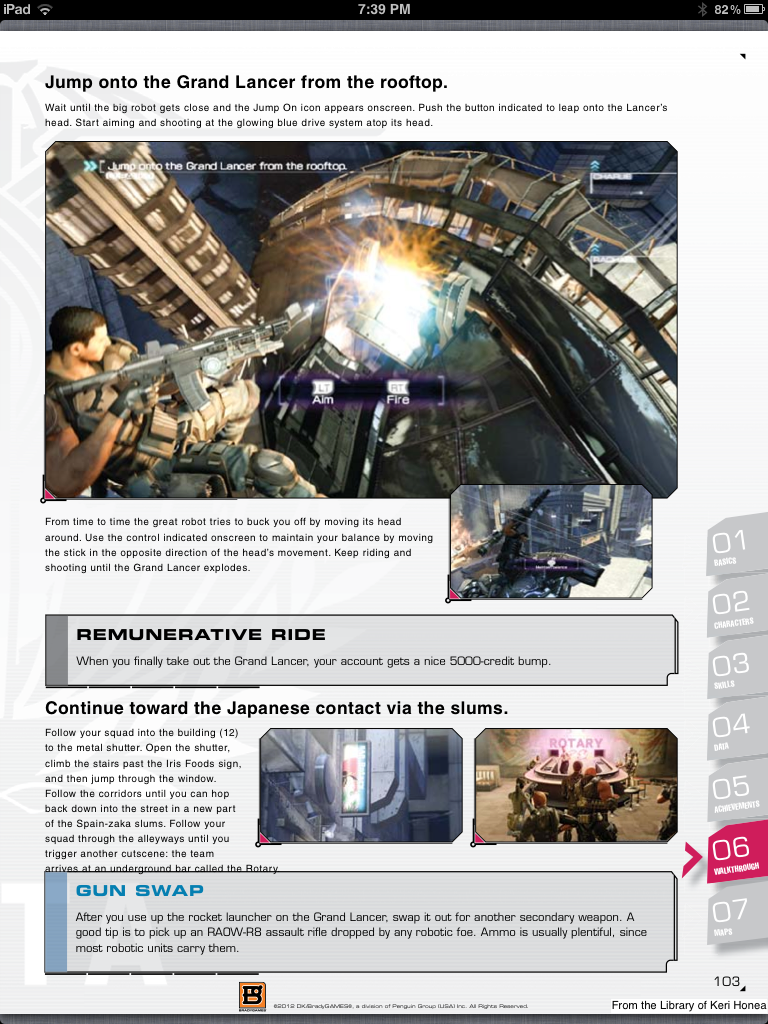 The walkthrough was particularly useful when it came to boss fights. There were a ton of boss fights in Binary Domain, and not all of them were that obvious in how to defeat. The idiocy of your team at times didn't ever help matters. The last few boss fights were by far the worst (as usual), so several of the guide's tips were absolute lifesavers.
I never want to see paper guides disappear, as even though I love my e-readers, there's still just something about holding a book in your hands and flipping pages. That said though, I'll complain less if e-guides turn out like this one–more of interactive PDFs than anything else. It's what separated it from GameFAQs and the IGN wikis. It's true that the wikis have videos, but none have interactive maps.
SGR Rating: 4/5
Authors: Rick Barba and Tim Borgenn
Publisher: Brady Games
Editions Available: PDF
Acquired via publisher