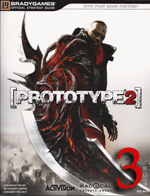 Since Prototype 2 itself reminded me so much of inFamous in virtually every aspect, I thought that its corresponding strategy guide would be just as similar in terms of setup and layout. Unfortunately, the guide was nearly as disappointing as the game. As a whole, the Prototype 2 strategy guide felt very minimal to the point of being half-assed and more like a script for the game than anything else. This is definitely not one of BradyGames' best work.
The overall layout of the guide is about what I would expect, and I have no problem with either the layout or the design. In fact, these are the guide's best features. The layout and organization of the guide are nearly perfect. All information was exactly where I hoped it would be, so there was no second-guessing the location of content. As a result, if I needed to look up a side mission, a collectible, or a power upgrade, I could do so in a snap with minimal flipping.
The collectibles maps are some of the best I have ever seen. The game didn't have that many collectibles in comparison to other games, but they were treated as though there were hundreds. Each region of New York Zero had its own map on its own page. This allowed the maps to be large enough to easily decipher the location of each collectible. Each map had its own legend, even though each collectible symbol was the same throughout. It shows a bit more care and effort when guide authors and designers don't make any assumptions as to when you've accessed similar information.
And that's where the guide's greatness ends. Sadly, the walkthrough content was incredibly lacking. Instead of consistently giving strategies for defeating this mini-boss or that encounter, it often read more like a script of what was happening in the game. This isn't to say that it never gave strategies, only that  it was very inconsistent in when it did. When it did, the strategies were often great. When it didn't, well, better figure out your own way to get through the area, as the guide will simply tell you to "defeat all enemies." Literally. It also says that doing so will trigger a cut scene. Then it summarizes the cut scene. I could just read this guide to find out exactly what happens in the story. Tsk, tsk.
The game is fairly simple and straight-forward, so I understand why there are no in-depth discussions. That said, there's no excuse for at least listing suggested powers or power upgrades one should have before attempting a certain main story mission. For instance, about halfway through the game, there is a fairly difficult chase sequence Heller has to master. If you don't have his locomotion powers upgraded, especially his speed, air dashing, and gliding powers, you're in for lots and lots of failure. All of these upgrades should have been suggested at the start of the mission.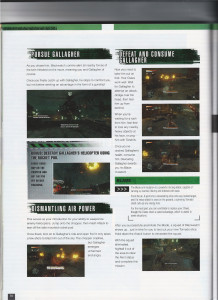 And while we're already on the topic of this particular mission, allow me to divulge my frustration even further. None of the chase missions, whether they are story or side missions, include a map with the required route. For many people, part of the fun in chase scenes is the trial and error, but after five or ten times, it's no longer amusing. A map showing me where this character was going to eventually run to would have removed a lot of the guesswork. As you can see from the scanned page to the right, the guide merely says, "Once you finally catch up with Gallagher, he stops to confront you." It sounds like you just have to catch up with him at any point in time, right? Nope. I glided right on top of this jerk's head, and he continued to run. It wasn't until I reached a certain point in his escape route that I caught him. (As mentioned in the previous paragraph, I was only able to do so after aborting the mission and upgrading certain powers first, something that I should have been advised of from the get-go.) None of the chases or races have mapped routes, which could have also eased up on the frustration.
The game isn't that fun by this point as it is, so adding guide frustration on top of it really doesn't help matters much.
Hardly anyone will pick up the game in the first place, but for those few who do, don't bother with the guide. It's great for finding collectibles and answering quick little questions, but if you're looking for real help and real strategies, it would be better to look online.
SGR Rating: 3/5
Author: Phillip Marcus
Publisher: BradyGames
Editions available: Paperback
Acquired via Publisher