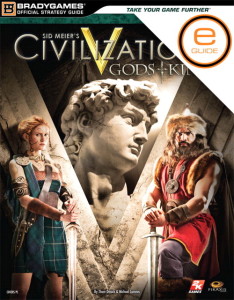 A whole new strategy guide for an expansion to a game? Sounds crazy, but it's true! BradyGames has indeed released a strategy guide dedicated to the Civilization V: Gods & Kings expansion.
Their official press release can be found below.
BradyGames is pleased to announce the official Sid Meier's Civilization® V: Gods & Kings Strategy Guide. Released on June 19, 2012, Civilization V: Gods & Kings is the massive expansion pack for Civilization V, the latest installment in the popular turn-based strategy franchise from 2K Games and Firaxis Games. Achieve world domination with the official BradyGames guide as it covers the updates and changes from Civilization V Game of the Year Edition, all Civilization V downloadable content, and the robust Gods & Kings expansion.
The guide is available both in print and for download, depending on what tickles your fancy. I own Civ V, but I haven't played it yet because I'm scared of the time sink it will create.