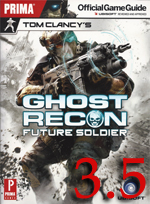 Ghost Recon Future Soldier is a different kind of game than some might used to be playing, featuring components of squad shooters, tactical shooters, and stealth action games. Gamers who are new to this blend of gameplay–especially those new to the Ghost Recon franchise–may find playing through GRFS a bit daunting at first. Luckily, for those gamers, Prima has created a pretty extensive strategy guide for the game that should be able to help them take down their heavily armed opposition. While not without a few trouble spots, gamers should be able to use this guide to find exactly whatever it is that they need to get through the game.
Prima's GRFS guide excels in giving many great general and specific gameplay tips for the tactical squad shooter. Players might not initially realize what options they have to spot enemies, or how efficient their teammates are at taking orders and subsequently taking down enemy soldiers. The guide is also mostly spot-on at enemy counts and helping players to arrange "sync shots" to take down groups of soldiers. Even some of the most difficult missions in the game, including ones where there are no alerts allowed, are made at least a fair bit easier by the guide laying out what's coming and what players can expect as they progress through the mission. The game's tactical challenges are spelled out with the criteria to meet and fairly good advice as well–I was able to accomplish a few of them because of the guide's suggestions.
However, every once in a great number of pages, the guide includes some puzzling advice. Not necessarily wrong advice per se, but advice that seemed a bit difficult to pull off or not the easiest way to proceed. For instance:
In the mission "Noble Tempest," the guide advises that players take out four mercenaries playing soccer before taking out some other guards in the area, when an alert can be avoided with a careful series of sync shots used prior to taking out the soccer players.
The latter half of "Noble Tempest" has an alternate ending with a chopper battle that isn't mentioned.
In "Gallant Thief," the advice for taking out the guards stealthily before rescuing the prisoner was generally too vague. Plus, by being careful and patient (the process takes a while and possibly multiple restarts), a player can opt to forgo stealth and use a weapon to take out a number of guards in the area, freeing up the lift needed to evacuate the prisoner from the presence of guards nearly completely. The guide does mention that an SMG could be used in the area, though.
Finally, in "Shattered Mountain," the guide advises to leave the guards standing behind the barn area in favor of going after a high value target first, when the guards can be carefully taken down with sync shots prior to engaging the target. If the player has taken out the guards behind the barn, then takes out the high value target and accidentally triggers an alert, they only have to deal with a select few enemies inside the barn.
Other than those instances, though, the guide's advice for the single player campaign is mostly very useful and quite accurate.
The guide's advice for multiplayer is overall very general and will be helpful to beginners, but won't help with any specific trouble spots. The guide calls out noteworthy areas and marks all of the places on the maps in which objectives appear, which are very useful inclusions (especially the objectives locations), but does not really recommend any course of action for what to do when on offense or defense and encountering heavy resistance in a particular area. As for Guerrilla Mode, I was only able to test the infiltration run of each map, as the mode is built for four players and does not include a way to go through the mode with four random players–players can only play online with other friends who have the game. I only found one problem of note with one of the initial infiltration runs (the "Mansion" map), as the guide advises players to take out a soldier who spends plenty of time facing the player. By taking out the guards in a different order (taking out a patrol guard who stops next to a car, then taking out a guard patrolling the mansion's front, then taking out the facing guard by coming up from behind him by vaulting from cover and finally the other two), the process was much easier, albeit lengthier.
The official GRFS game guide is a mostly accurate guide with a few trouble spots. Gamers who need the guide shouldn't let the trouble spots mentioned bother them, as they are the rare few exceptions to an otherwise very useful guide that gives players plenty of important details about their enemies and their locations. The single-player campaign's missions have some really tough spots to get through–which may be even tougher on higher difficulties–and in those instances, the guide really does offer some very good advice on how to get through as easily as possible. The multiplayer advice not going deeper is unfortunate, but again, having the locations of objectives alone provides a fairly decent advantage at times. Prima's Official Game Guide for Ghost Recon Future Soldier may not be flawless, but it has more than enough vital information to warrant a purchase by anyone who thinks that they'd need it.
SGR Rating: 3.5/5
Authors: David Knight, Off Base Productions
Publisher: Prima Games
Editions Available: Paperback
Acquired via Publisher