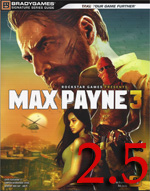 Max Payne is one of those franchises that you have to love. Staring the game's namesake, Max Payne, as a shit-out-of-luck cop trying to make sense of his life, the series has been widely acclaimed by critics and fans alike. It was so popular, in fact, that it was very loosely adapted into a film released in 2008. This year marked the return of the dysfunctional gumshoe, to a level of praise that echoed of the original installment. With Rockstar at the helm this time around it was essentially business as usual and critics devoured it with enthusiastic fervor. Can BradyGames' Max Payne 3 strategy guide for the game live up the brand's prior levels of success, or is it better discarded like a junkie in an alley?
What would a guide be without a strong introduction to the game mechanics? Thankfully the reader will never have to find out, because the authors knocked it out of the park. Though the standard experience in Max Payne 3 differs little from other installments in the series, newcomers will find breakdowns of painkillers, bullet time, (or as they like to call it, shootdodging) cover usage, and kill cams to be fairly useful. Even though it isn't unlocked until after completing stages throughout the campaign, this section also steps through the variety of different Arcade modes that eventually become available. Some may consider this to be slightly out of sequence, but in all reality, the introduction is probably the most logical location for this to reside. Wrapping up the chapter is a comprehensive analysis of every firearm in the game containing key bits of information such as rate of fire, damage, clip size and caliber. Armed with the introduction's knowledge, any player would be adequately prepared to pump adversaries so full of lead that they could be used to draw a stick figure.
Next up is what could be considered the meat of this tome, the campaign walkthrough. Each chapter, which just so happens to conveniently correspond with a numbered chapter in the story line, starts out with a brief synopsis of what is happening in the plot and the overarching mission objectives. These first couple of pages are amongst the most stylish and well laid out sections of the entire guide, complete with numerous vibrant screenshots. Unfortunately, what follows doesn't quite live up to the same level of organization.
In order to tackle sections in a more comprehensive manner, chapters are broken up into what amounts to logical slices of the map. Contained inside these subsections are extremely detailed walkthroughs that demonstrates how obsessively scripted the enemies are. Everything from where enemies will emerge from, what character types they will be and even what weapon loadouts they will have is spelled out explicitly. The tactics necessary to dispatch these cronies are broken down in a matter-of-fact way, that almost takes any surprise out of the game. But if you are using a guide to begin with, what else could you ask for?
Some of the other tidbits of information that can be found in each map segment are lists of every weapon available, as well as the location of all collectables and golden weapon pieces. As is the case with every chapter introduction, there are an incredible abundance of screenshots at the reader's disposal. The problem is while these shots are pleasing to the eye, probably a third of these images are completely unnecessary. What results is an extremely cluttered layout that is far too busy for the eye to parse all at once. If they were attempting to model the walkthroughs after a graphic novel style, it was a smashing success.  However, when reading for content, this chaos tends to cause more harm than good. Organization criticisms aside, the actual text on the page is an greatly detailed and extremely thorough documentation, but it isn't done any favors by the constantly shifting layout that feels as if they tried to cram too much on a single page.
Just in case the reader happened to miss the collectibles that were already shown once in the campaign, once the walkthrough is complete, there is a section dedicated to all of the clues and golden gun pieces that were already pointed out in the text. This is a baffling decision considering that in most cases the EXACT SAME image is shown, along with a very similar, if not completely echoed commentary on each item. If this was not information that was already presented earlier in the book, then this section would make complete sense, but when you are just re-cropping the same image and re-wording the same information, it reeks of trying to pad the content.
Wrapping up the guide is a rather brief thirty two pages dedicated to the game's multiplayer mode. Considering that this is the first time that any kind of multiplayer has appeared in a Max Payne title (other than what was originally slated to be included in the first installment, but was scrapped in order to get it out the door) you might think that the author might have seen the need to fill out this area in more detail. Giving them the benefit of the doubt, this may have been the result of never being able to play multiplayer prior to launch.
What actually is present is the traditional rundown of different game modes, mechanics, and avatar customizations. Bursts, which are essentially the equivalent to "perks" in other popular online shooters, are discussed in a lackluster generic fashion, with no attention being paid to how they can be utilized strategically in battle. Once again following the multiplayer trend of only containing surface level statements that mean relatively nothing, the weapon details also prove to be a fairly useless collection of information that seem uninformed at best. The most damning evidence of the author never playing the multiplayer is the map segment. Here you would think that each stage would be broken down, noting different strategies, strong points or weapon spawn locations. Instead, the reader is treated to a single black-and-white image of each stages floor plan. THAT'S IT! In a day and age where multiplayer is king and can prolong the lifespan of a game indefinitely, this should be a refund-worthy offense. When all that could be mustered was a single screenshot, this shows a blatant disregard for the reader and represents a critical failure in the publication that is inexcusable.
At best, BradyGames' Max Payne 3 strategy guide is a roller coaster ride of highs and lows. If the reader were to consume the campaign walkthrough as only a document, it could be considered to be an overwhelming success. On the other side of the coin, a cluttered and "screenshot happy" layout undoes any triumph that the text accomplishes. Add in the barely present multiplayer section that is insultingly bare bones, and you have a recipe for a guide that underachieves on virtually every level. If this guide were a debutant that Max had to protect, he would probably just sell her to the enemies for booze money. At least then he could have something useful to consume.
SGR Rating: 2.5/5
Authors: Tim Bogenn and Rick Barba
Publisher: BradyGames
Editions available: Paperback
Acquired via Publisher