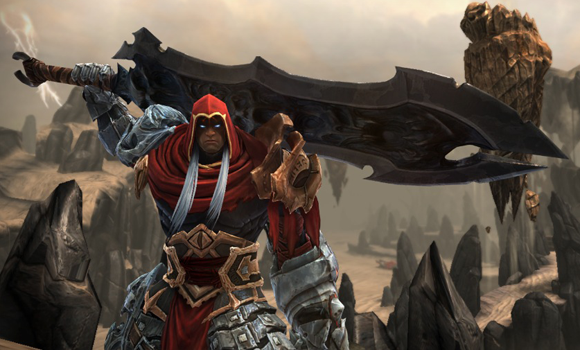 The more I played Darksiders and the more I saw how much of a Zelda-clone it really is, I knew I would quit the game eventually. I didn't want to, as I really, really like the story, but I had a sinking suspicion it would happen. The question was, what would do it? Would it be the usual boredom that causes me to quit Zelda games? Or would I hit some super frustrating boss of whose frustration would be compounded by horrible aiming mechanics? Or would it be some insane timed platforming puzzle? And the answer was…C.
As soon as I received the power of the chronospheres to slow down time, I knew something bad was going to happen. I knew it couldn't be used for something as simple as just evading the giant sandworms, and sure enough, I was right. I had to use it to quickly climb around a stupid tower in the middle of the desert. Have to slow down time to avoid getting smacked by a spinning blade at the top of the tower, as I have to use the demonic growth to traverse the top of the tower because the bridge is out. The bridge is always fucking out. The puzzle seemed simple enough and it really didn't seem to be that bad. What I didn't count on, though, was the direction I needed to pull on the analog stick not corresponding to where War would actually go. I practiced a variety of methods, but nothing seemed to work. War would either climb back down or go in the direction of the spinning blade. After thirty minutes of trying, I said no more.
Life is too short to play games that cause that amount of frustration. I'm really sad about not finishing the game and having to rely on game summaries to find out what happened. I'm going to a Darksiders II Community Event this week, so I really wanted to have the first game completed so I would be fully prepped for the second. Now that I hear that the second game has more platforming than the first…well, let's just say that I'm thrilled I have a writer on staff who has already begged me to work on the Darksiders II strategy guide review. I will still greatly enjoy myself at this event, and who knows; maybe I'll really really like the sequel more than the first. It's happened before, so it's bound to happen again.
Sorry, Darksiders. I tried, I really did. I hate anything timed, and this one puzzle just pushed me too close to coffee table flipping rage. Time to refocus on LEGO Batman 2 and the next item up in my stack of shame: Transformers: War for Cybertron.