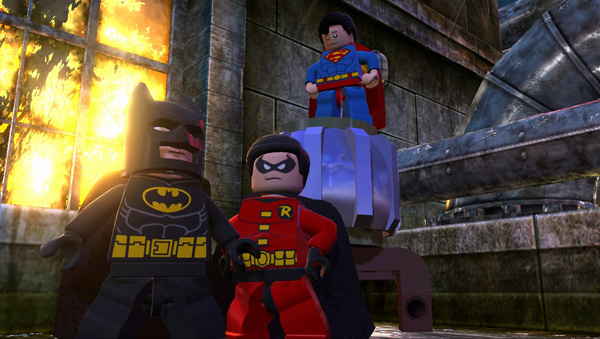 I've usually made it a policy to not play video games around my son, Gabe, but I've made an exception as of late with handhelds, especially while he plays games on the iPad. (The family that games together, stays together.) One game I have been playing alot on the Vita is LEGO Batman 2, and as Gabe has gotten into super heroes lately, it really intrigued him to watch me play. LEGO games are quite honestly the only kid-safe games I own, so I've had no problems with him hanging on me while I play.
Sunday morning, however, he went into my gaming office and saw my PS3 copy of LEGO Batman 2, as I had to get a console copy to review the strategy guide. He neatly put two and two together and asked to watch me play that copy on the TV. Of course, I initially thought that was awesome. It didn't take me long to see how really not fun that is.
On the one hand, I was able to start work on that strategy guide review, but on the other hand, I wasn't really able to concentrate on much. Thank God it was a LEGO game, where concentration isn't exactly that important. However, having a backseat driver while playing a game, even a LEGO game, isn't as much fun as it sounds. Of course he didn't understand why I was stopping to smash everything in sight for the sake of gaining the Super Hero status in stud collection. He didn't get why I was fulfilling ridiculous prerequisites for minikits. As such, he felt the need to tell me where I needed to go. At every second.
I'm able to tune out most of it thanks to being a stay-at-home mom with no daycare for two years, but it's hard to tune it out when he grabs my hands to get my attention to tell me where to go. Then he wants in my lap. Then he wants my controller because it's a better color than the one I'm letting him hold. It becomes one giant pain in the ass. He would probably want to watch me play all day, but there's only so much I can take with that much distraction going on.
Selfish of me? Yeah, a bit. But gaming is something I do for me that occasionally ends up being work. There are so many other things I'd rather do with Gabe than have him watch me play a video game.
After I said no more video games for today, he grabbed Gears of War off the shelf and asked me to play that because the guys "look cool." Ah, yes, they are cool, but hell no, kiddo. Let's go color in your coloring books.