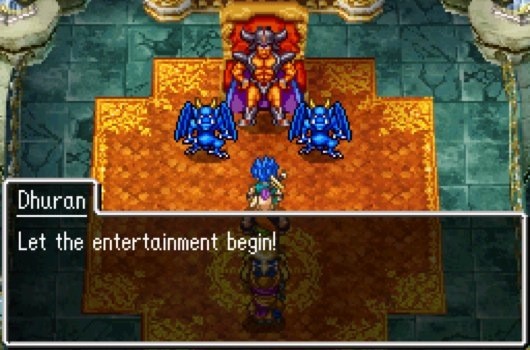 I haven't playedDragon Quest VIsince E3, which was only about what, a month ago, but in JRPG time, that's about ten years. I turned it on while at the airport for the return flight and instantly fell into the "uhhhhh, what am I supposed to be doing again?" DQVI has no journal, and while I remembered there was someone you could talk to "in case you ever lose your way," I could not for the life of me remember who this person was or if they were in the real world or dream world.
My save point doesn't help, because I saved in a town where I had already saved it from certain doom. So I went there for another reason. Either it had a cheap inn or it was close to a sidequest. Wait, didn't I unlock the ability to submerge my ship like a submarine? Did I come to this town to explore underwater? Arrrgh, WHY AM I HERE AND WHAT AM I SUPPOSED TO DO NEXT?
Thank you for your existence, strategy guide! Thanks to you and my handy-dandy bookmark, I see that I came to this town for no known reason whatsoever. There is nothing I need anywhere near here, and in order to complete my current sidequest, I need to go somewhere else. Conclusion? I needed a super-cheap inn.
JRPGs are long suckers, and for those that I'm playing for fun and not for my review, I may take days or weeks or even months in between gaming sessions. If I didn't have the guides, I'd most likely quit the venture or start over. And if I started over, I'd end up back where I was: confused. Considering I really, really like DQVI, this would be a darn shame. Whenever I get around to Dragon Quest IX, I have a feeling I'll be back in the same boat repeatedly.
The best part of the whole story? When I pulled out my massive DQVI guide from my carry-on bag, guy next me shot me a look of disgust. He commented that the game was not that hard and I didn't need the guide. I cocked my eyebrow at him and said, "Who said I needed this because the game was hard? I hadn't played in over a month and I can't remember what to do next." He looked surprised, then smiled and said, "Oh yeah, I can relate." A few minutes later, I heard him say over my earbuds, "Damn! I didn't know that sidequest was there."
HA!