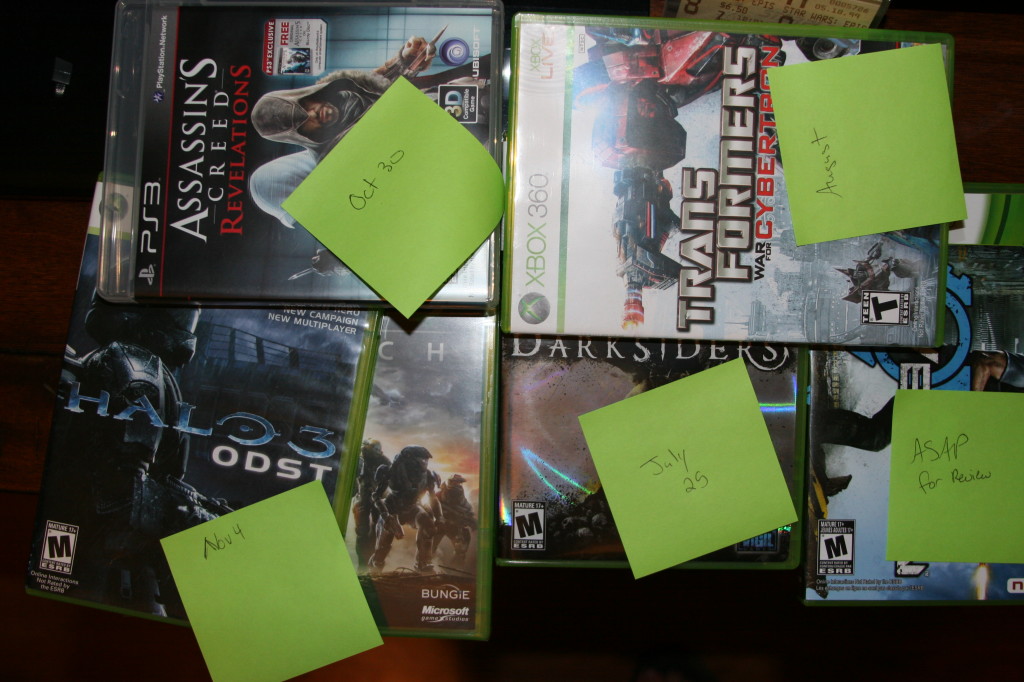 Yup, I've reshuffled my stack of shame yet again. As you can see from the image above, I even have deadlines on each of the games. I am on what you may call a very tight schedule from now through the fall.
Two forces triggered this latest shuffle. The first was an invitation to attend a THQ press party for Darksiders II, where I'll actually be sent–not on my own dime, unlike E3 and SDCC–to a video game event. I've never finished the first Darksiders game, and I'd really like to have it done or at the very least a majority of it done before I head out and make a complete ass out of myself in front of the developers and publishers. The event is July 25th. In other words, as soon as I get my butt home from SDCC, it will be Darksiders, balls to the wall, and set on the Easy difficulty setting. When you absolutely, positively have to burn through a game in a week, Easy is the only way to go.
That's been the biggest monkey wrench in my stack of shame kerfluffle. The second force was the announcement of the fall release for Transformers Fall of Cybertron. I never finished War for Cybertron like I wanted to, and now I have until late August to do so in order to be able to review the guide for Fall of Cybertron when it releases. Thank God I've already conceded reviewing both the Borderlands 2 game and guide to others. I would have had to add Borderlands to my higher priority list, and well, then I could just schedule a breakdown by late September.
Once that hit me, the realization of other sequels' releasing also came into full epiphany. Assassin's Creed III releases October 30th. Halo 4 releases November 6th. I must finish Assassin's Creed Revelations, Halo 3: ODST, and Halo: Reach in order to fully understand what will happen in these games.
Keep in mind that I also have to review Inversion for GA ASAP, as that game released while I was at E3 and I just haven't had a chance to get around to it yet, AND Kingdom Hearts 3DS releases July 31st.
It's a good thing I have friends with young children, so none of us get out ever. If they don't hear from me for a month or two, it will be nothing too unusual for either of us.