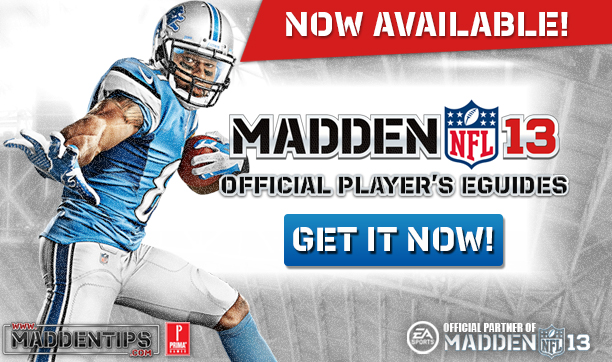 Prima Games and GameStop seem to have joined forces to help Prima sell more of their eGuides to the masses. Now you don't have to buy the guides directly from the Prima Games website; you can buy them at a GameStop store and then redeem your codes online. It seems kind of silly to me, considering you have to visit the Prima Games website anyway, but Prima Games and GameStop have thought of an incentive plan to create some sort of sense of this.
Starting today, you can buy an exclusive Madden NFL 13 tournament bundle at GameStop, which includes both offense and defense Tournament eGuides for $19.99. If you buy them separately online, it will cost $39.99. If you're going the electronic route for your guides anyway, this isn't a bad deal.
So far, it is expected that similar eGuide/GameStop sales will include Halo 4, Hitman: Absolution, Medal of Honor: Warfighter, and The Sims 3 Supernatural.
In other news, oh hey, Prima Games is in charge of the Halo4 strategy guide.