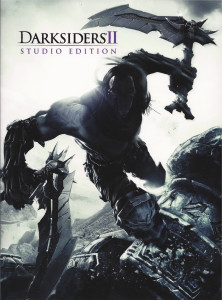 I honestly cannot recommend that you get into Darksiders II enough, even if you were as meh about the first game as I was. Prima Games agrees with my sentiment so much, they've sent me an extra Darksiders II strategy guide to give away. Included with the strategy guide is a code for an exclusive weapon, Fletcher's Crow Hammer. Normally you'd have to buy the strategy guide to get this code, but Prima Games loves all of you just that much to let you have this code along with a free guide.
Oh and I also have to point out that a guide will be needed a bit more with this game than the first just for one word and one word alone: sidequesting. Have I sold you into entering yet? Then let's get into the nitty gritty!
Here is how you enter (notice that it's the same as the last Free Guide Friday):
Leave a comment here on this post saying that you want to enter.
Follow me on Twitter and tweet at me that you want to enter.
Like our Facebook page and comment on the Wall post that links this post that you want to enter.
Each of these counts as one entry, so you could enter up to 3 times. On Friday, August 17th, I will draw a random entry from my almighty N7 hat. Once again, US contestants only, please, unless you are willing to spring for shipping.
If you win, please thank Prima Games either via Twitter or on their Facebook page. This is their first Free Guide Friday with us and we want more, right?