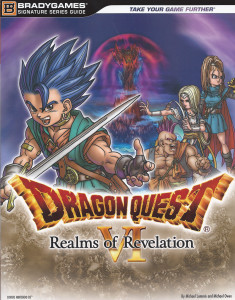 I wasn't a huge fan of Dragon Quest VI the game, but wow the Dragon Quest VI strategy guide was hilarious to read. Most of the hilarity was in the headers, but there were plenty of gems in the content.
"Your companions start to get nervous, and suddenly Murdaw appears. It is his place, so that's not too surprising. Sadly, he's been eating his properly balanced breakfasts, and you won't have a chance to beat him here." – pg. 71
"The crown maker is hanging over the northern edge of the hole. His name is Cliff, so he REALLY should have seen this problem coming." – pg. 80
"He [the well-wisher] wishes us ill!" – pg. 102
"This one of the first encounters that is a tad more complex than just 'I have damage, and I want to give it to YOU!'" – pg. 115
"Fully heal your party, equip your weapons with the highest attack values, and talk to Murdaw. It's no surprise when he attacks." – pg. 127
"We're sorry, Hero, but the King is in another castle." – pg. 128
"In Murdaw's Isle, chest tries to open you!" – pg. 131
"These poor folks have so little…to steal." – pg. 155
"Brown Now, How…Castle" – pg. 163
"Turnscote has a bit of a rough reputation. That's not surprising considering the amount of murder, thievery, and gambling that goes on around town." – pg. 208
"It's always Monday morning in Despairia." – pg. 235
Thank you, Michael Lummis and Michael Owen, for showing that strategy guide content doesn't have to be so cut and dry. It can have dry humor too!