Crysis 3 Strategy Guide Giveaway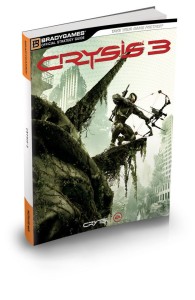 Thanks to the kind folks at BradyGames, we're hosting yet another giveaway! If you're needing some crysis management, then there's no better place than the Crysis 3 strategy guide from BradyGames. Want to win this book for free? I hope you have a Twitter account and live in the US. (Sorry, still not shipping free guides overseas.)
Follow both @strategyreviews and @Brady_Games on Twitter.
Tweet the following: I need some crysis management from @Brady_Games and @strategyreviews this #FreeGuideFriday!
If you want to be creative in your request, that's fine too, but your tweet must contain "crysis" "@BradyGames" "@strategyreviews" and "#FreeGuideFriday" to be a valid entry.
One entry per person allowed!
Winner will be picked randomly on Friday, February 22nd.
Good luck to all!