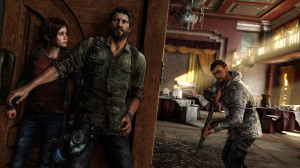 I have loved Naughty Dog's Uncharted series, and after seeing their trailer for The Last of Us last E3, I have been greatly intrigued by the game. It's a zombie-like game without the zombies, and it does not seem to be action-based at all. Instead, it appears to be more survival- and stealth-like, in that Joel and Ellie have to constantly sneak across areas in their journey to avoid infected humans and even other surviving humans, who have no problems stealing and killing for food and supplies. Each trailer I have seen with these encounters shows slow, strategic, and thoughtful planning on the player as Joel and Ellie are maneuvered to ideal positions to take on the threat optimally. As a result, each encounter comes across as incredibly tense to me, the viewer. I cannot imagine how I would feel as the player.
I've made it no secret how I feel about stealth games, and while The Last of Us definitely does not have the stealth caliber of Hitman, but it invokes that tense feeling enough to make me want to stay away. I'm fairly certain it's a game I would greatly enjoy watching someone play, but definitely not play myself, even with a strategy guide to help ease the stealth planning.
I played a bit more stealth games in 2012 than I usually do, and I'd be lying if I said that hasn't affected my opinion. I'm done with feeling tense while I play games. Playing games is the one hobby I can really do on a regular basis that is relaxing and enjoying, so no, I really don't want to feel tense while doing something I'm supposed to do for fun.
I'm sure another writer on staff will be happy to take up the burden of reviewing the strategy guide for The Last of Us if there is one, so nobody worry about that too much. Of course, the game doesn't release until May, so there's plenty of time for me to see something that will change my mind.