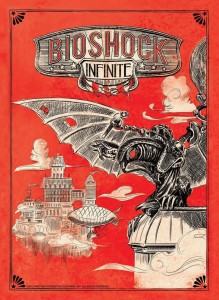 Irrational Games has put all BioShock fans on a super hype train for a couple of years now, which has gotten this strategy guide aficionado clamoring for the strategy guide. The game reviews have been stellar thus far, so who wants the official strategy guide to help you get everything possible out of the world of Columbia?
BradyGames has kindly donated a copy of their paperback strategy guide for this contest, so no, this is not for the hardcover Collector's Edition. If that's what they end up donating in the end, consider it a bonus, but do not expect it by any means.
Once again, it's a Twitter contest, and you must live in the US to enter.
Do you have your Twitter account ready? Here's how to enter:
Follow both @strategyreviews and @Brady_Games on Twitter.
Tweet the following: "I can't fly through Columbia without the BioShock Infinite guide from @Brady_Games and @strategyreviews this #FreeGuideFriday!"
Yes, that's cheesy, but you're possibly going to get a fantastic free strategy guide. DO NOT COMPLAIN. The tweet must be exact, or it will not count.
One entry per person allowed!
Winner will be picked randomly on Friday, March 29th by noon CST.
Have fun and good luck!