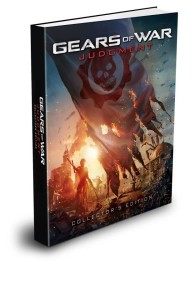 Who's ready to visit the chaotic world of Sera once again, this time with my favorite character as the lead? Words cannot express how much I am itching to play this game. Do I really have to wait a week? It will be the longest seven days ever for this Baird fan! I won't even have to play co-op as player 3 this time in order to play as him! Okay, enough of my fangirlism and on with a new contest!
BradyGames has kindly donated a copy of their upcoming strategy guide for this contest, and for the record, the hardcover Collector's Edition is the ONLY edition the company is publishing. Does that get you more excited? It should, dammit.
Once again, it's a Twitter contest, and you must live in the US to enter.
Do you have your Twitter account ready? Here's how to enter:
Follow both @strategyreviews and @Brady_Games on Twitter.
Tweet the following: "I need the Gears of War Judgment strategy guide from @Brady_Games and @strategyreviews keep my gears turning this #FreeGuideFriday!"
Yes, that's cheesy, but it's fun and it's a reference to a song title from the Gears of War 2 soundtrack. The tweet must be exact, or it will not count.
One entry per person allowed!
Winner will be picked randomly on Friday, March 15th by noon CST.
Have fun and good luck!