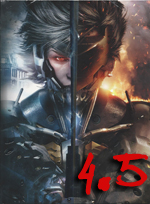 Metal Gear Rising: Revengeance marks a distinct gameplay departure from the MGS series. Instead of a stealth game, Raiden's spin-off offers fast-paced stylish action similar to games such as Devil May Cry and Bayonetta. Gamers who are following Raiden from his roots in more traditional Metal Gear games to MGR:R may encounter some difficulties, especially with a game that has experience points so strongly tied to battle rankings. Piggyback's Metal Gear Rising: Revengeance strategy guide, though, is a one-stop resource that should be able to help players get the best battle rankings and all of the Battle Points (MGR:R's XP) that they need.
Two of MGR:R's big gameplay focuses are Zandatsu (the game's signature finishing maneuver in Blade Mode) and parrying (how attacks are countered). The strategy guide will let players know everything that they need to in regards to these mechanics, especially what enemies can be hit with a Zandatsu immediately or what damage qualifications are necessary to get one, what enemy attacks can or can't be parried, and what signs players should look for to be ready to parry an attack. The information can be invaluable at times and can help players significantly increase their rank.
Speaking of increasing rank, the strategy guide's advice for specific combat situations is focused on players gaining an S-Rank in every ranked battle. The guide also assists players with engaging in the right styles of combat, helping them learn effective techniques that can be used when facing enemies in future battles. Following the guide's advice closely or even just keeping specific points of advice in mind can be the difference between a B rank and an A or S rank. Performing better in battle results in earning more Battle Points, which further results in players being able to give Raiden more upgrades and access more weapons. The guide even makes recommendations about what specific upgrades players should invest in before moving on to the next chapter, which are virtually spot-on. The level of accuracy for the guide even extends to item locations, as mostly everything is exactly where the guide says it is, with rare few exceptions.
The official guide also has a vast amount of data in it, from how the scoring system works, what parts of an enemy are strongest or weakest (down to color labeling representing the strongest and weakest areas), how much damage enemy attacks do, the stats for each weapon and sub-weapon, and more. For players who would eventually like to master MGR:R, the guide provides all of the relevant data necessary to assist them with their goal. Tables containing information on how a battle is graded (time, Zandatsus, kills, etc.) accompany every ranked battle and the guide also has No Damage and No Kills tables available when applicable. Finding information in the guide is very easy as well, as the pages have very clean layouts and call-out boxes are well implemented. The guide's item discovery/level layout sections are separate from the battle sections, which may see gamers flipping pages back and forth a bit, but that's ultimately a minor nitpick.
If the strategy guide has one downside, though, it's that the S-Rank only strategies may be intimidating for some players to pull off, especially those players who are new to this style of game. The guide admits that pursuing S-ranks right away isn't a good idea, saying that on a first playthrough, gamers should just play for fun and familiarize themselves with the game's core techniques. While most of the guide's advice can be used quite well for an initial playthrough, newcomers may struggle a bit trying to keep up and there are occasional sections that recommend equipment that players won't have on their first-run playthrough or may not have unlocked yet. However, the guide's advice also will immediately become much more clear and perhaps even more accessible on a second playthrough. (A second playthrough on MGR:R is easily accomplished with a game length of around ten hours or so, which can be shortened even further by skipping cut scenes.)
As for the Collector's Edition value, MGR:R's CE guide has a sixteen-page artwork section with comments from staff from Kojima Productions and Platinum Games who worked on the game. The section isn't particularly a must-have, but it provides a nice look at some of the artwork that went into the game and may be a plus for players looking to pick up the great Yoji Shinkawa textured paper lithograph depicting Raiden that comes with the guide. The guide also has a nice hardcover with an image of Raiden on the front, split down the middle with an electrically charged blade. Fans less enthusiastic about Metal Gear may not enjoy the extras as much, but for the Shinkawa lithograph and the additions to the CE, the $10 difference in comparison to typical paperback guides will be worth it for hardcore fans of the franchise.
If someone is new to playing MGR:R and seeking advice or is looking for advice on how to get S-ranks in every battle in the game, the Metal Gear Rising: Revengeance strategy guide is absolutely worth picking up. The guide is packed with as many bits of essential information as imaginable to help players figure out how to defeat an enemy that they're having difficulty with, get through boss battles with greater ease, get the best possible ranks in combat, and have an easier time playing the game all-around. Regardless of experience level with this type of game, the guide is more than capable of helping players beat or best MGR:R. Piggyback's guide is simply a must-have for anyone who might be looking to pick one up for Metal Gear Rising: Revengeance.
SGR Rating: 4.5/5
Publisher: Piggyback
Editions available: Hardcover Collector's Edition
Acquired via Publisher