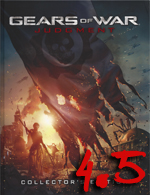 When Epic Games and People Can Fly announced that Gears of War: Judgment would implement a smart spawn system, thereby removing the possibility for players to memorize a level, I knew that the strategy guide writers for the game would have their work cut out for them. Whyile the smart spawn system wasn't as extensive as I was led to believe, it still laid some tricky groundwork for the guide writers. Not to mention, each level would contain a Declassify mode, adding additional challenges for both players and the strategy guide writers to face. Of course, the strategy guide team at BradyGames was up for the challenge, and they knocked the Gears of War: Judgment strategy guide right out of the park. In fact, I enjoyed the strategy guide far more than I enjoyed the game itself.
In many ways, Judgment was structured similarly to past Gears of War games–large sections divided by smaller chapters. With Judgment, instead of breaking up the sections by scene, the sections are divided by who is testifying on behalf of the actions of Kilo squad. Within each bit of testimony, the section is broken up by 7-8 missions, which are more or less distinguished by scene. Each mission is extremely short by Gears standards; at the longest, they took me 10 minutes. At their shortest, especially if they were timed missions, they took less than four minutes. As such, you can see why the smart spawn system wasn't as detailed as I had originally feared it to be; rather, what changed each time you visited the area was what enemies showed up. Don't get me wrong, this still greatly changed my approach to getting through a level–defeating hordes of wretches is actually trickier than a team of drones and maulers. Because of this system, it was obvious that the writers played each level numerous times on the different difficulties so they could account for every possible scenario that would be thrown at the player. I would always know at the start of the mission what possible enemies could appear and where, even with the missions that had different waves of enemies.
The point of Judgment is more of getting a three star award at the end of each mission for your performance than surviving the Locust forces, so the focus of the walkthroughs was on getting the highest ranking possible first, surviving second. It was kind of assumed that if you could get three stars, you would survive. Most importantly, the walkthrough always gave strategies for getting that three-star ranking without playing the mission as Declassified. When you turn the Declassified mode on, the stars fill far faster because the mode adds a greater level of difficulty. If you're hunting for COG tags or you just don't want to play Declassified right away, these strategies are crucial for filling up those stars. The fastest way to fill the stars is by earning ribbons, and the strategies are quick to tell you which ribbons are possible to obtain and the best way to earn them in rapid succession. Thanks to these tips, I was able to rack up at least two stars on every mission I played that I did not Declassify–as confusing as that probably sounds.
Since the Declassified mode added an extra set of parameters to each mission, such as adding a time limit, restricting weapons, reducing visibility, or adding more difficult enemies, the guide presented a separate call-out box with the Declassified mode details and its own strategies. I greatly appreciated this for two reasons:
The strategy guide went into more detail about what the Declassified setting actually did than the game would. For example, the game, for one mission, said that Kilo had a reduced ammunition supply. The guide explained that this meant Kilo started with 30 rounds of ammunition for Lancers and there were no ammo boxes on the map.
By knowing fully what I was up against beforehand, I could make an educated decision as to whether I felt like playing the level Declassified or not. I cannot stand time limits in any game, but I played a few of the Declassified missions that imposed time limits thanks to the strategy guide going over how difficult this challenge was, what the time limit was for each level of difficulty, and the level of gaming finesse you had to have to get through it. If the guide said you needed to be a master at performing head shots in quick succession, I skipped it. If the guide said you had to be fast, but by using this or this weapon, you could easily do it, I at least tried it. Believe it or not, I actually did most of the timed missions.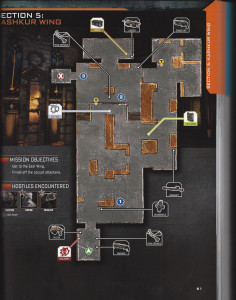 As I've said before, the missions are incredibly short, save for those in the Aftermath campaign, so the maps aren't that entirely useful for the main campaign unless you're hunting the COG tags or you REALLY REALLY REALLY need that Onyx Ammo box. That said, it didn't stop the strategy guide team from creating some really detailed maps. I only found two flaws with all of the maps: one map was missing a COG tag marker, and another did not have the Declassify marker. At least it's nearly impossible to miss the Declassify markers when traversing through the campaign, and I found that one wayward COG tag easily enough since all COG tags have their own call-out boxes in the walkthrough. (For the record, thanks to the strategy guide, I found all 48 COG tags in my first playthrough.)
Since Gears of War: Judgment itself is so incredibly short, and is not that difficult on a Normal setting with no Declassify modes activated, I cannot recommend the Gears of War: Judgment strategy guide if this is all you're going to do with the game. However, if you want those COG tags (some are not easy to find, trust me) and you want those three-star ratings on harder difficulties with the Declassify mode turned on, then BradyGames' strategy guide is your perfect companion to Kilo squad.
SGR Rating: 4.5/5
Authors: Doug Walsh, Michael Owen, Kenny Sims, Jim Morey
Publisher: BradyGames
Editions available: Collector's Edition
Acquired via Publisher