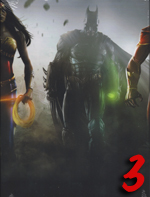 Injustice: Gods Among Us is not the first time gamers take on the role of some of their favorite DC Comics heroes and villains. However, this game is a bit darker thanks to its comic book source material and the story leading up to the game. While the game itself is a rock solid fighter, theInjustice: Gods Among Us strategy guide from Prima does need a few patches to help balance it out.
The first few pages are full of game mechanic basics. Anyone familiar with the Mortal Kombat series will feel right at home. There are some good nuggets of info pertaining to character types and each of the stage transitions. It also helps shed some light on how the wager system works and what interactive stage props make for good ancillary weapons. Give this section a few moments of time before digging into that favorite hero.
The bulk of the guide goes to each playable character. There is a brief intro along with what that character will do with various stage props. Following that is a description of their super move, character power, and a handy screen capture of their power meter. This is a prime location for some backstory on why said hero/villain is playing a role in this new universe, but sadly, that goes to the imagination.
From here, things kind of fall apart. The strategy guide doesn't list out every move, but instead opts to choose what they feel are the best moves from the arsenal. This same idea carries over into the combos. Accompanying the moves and combos is a brief set of frame-by-frame screenshots of the move/combo in action.
Each character receives a strategy section that helps new players understand their favorite fighter. While the strategies covered here are more a star
ting point, rather than an overall how-to, I found them useful in getting through the single player campaign with little to no issues while providing me some ground to start my multiplayer training. The idea here is to take those strategies into the training room and develop them into a fighting style that works for you.
At the end, there are some combo breakdowns, but I found these hard to quickly glance at in the heat of battle. Instead of some sort of easy button-to-button breakdown, they are all spelled out in long strings of text. It is easier to just bring up the in-game moves list and look through the combos there.
Following the character section is the single player campaign and S.T.A.R. Labs areas. The S.T.A.R. Labs portion is nothing more than a big checklist as all it provides is a synopsis of each goal and the three tasks for obtaining three stars. The single-player campaign is not much better, but at least each fight comes with a tip to help players from being caught off guard by some of the harder battles. These two sections feel more like fluff. The archives after these two portions will aid in unlocking that super cool 1960's costume!
The last few pages totally stoked my fires. Anyone that knows me knows that I like art sections and this guide did not fail me there. There is some gorgeous game art to enjoy, so take the time to appreciate what the artists are capable of producing. For anyone who is reading the Injustice comic books, you will find a special comic tucked away at the very end. I still find myself thumbing through this area and enjoying the crap out of it.
I want to note that Prima realizes that fighting games go through changes and they appear to address that with a website that will contain updates to this guide. At the time of this writing, there was nothing there, so time will tell how well this strategy works out. What would really rock with this website is if they would include some pro-tips and tricks. Just a thought, Prima!
This is not the best fighting strategy guide to grace my desk, but it is not the worst guide to come across it either. Almost all the info on the pages is found somewhere in the game, and the combos are a bit rough to read through. Diehard fans will find the Injustice: Gods Among Us strategy guide a nice piece to add to their book collections, and anyone completely new to fighting games will find it rather valuable. Veterans, however, might want to just skip this on by.
SGR Rating 3/5
Author: Sam Bishop, Carl White, Emmanuel Brito, Bill Menoutis
Publisher: Prima Games
Editions Available: Hardcover
Acquired via Publisher