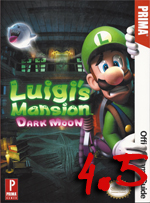 Luigi's Mansion Dark Moon is unique for a Nintendo game, in so far as it maybe being the closest thing to a point-and-click adventure title that they've ever created. Point-and-click adventure games, though, involve discovery, puzzle solving, and finding secrets. Because of those gameplay elements, I haven't always been the best at those types of games, so I can very much understand how much some gamers (maybe younger gamers in particular) may need a strategy guide for some assistance with a game of this kind. Prima has a Luigi's Mansion Dark Moon strategy guide though, that will be able to direct gamers through every mission in the game with next to no problems.
Dark Moon isn't a complex puzzle game or anything–after all, it is a game in a Nintendo franchise–and it seems to have been designed with quite a lot of accessibility in mind, so the game doesn't have any real puzzles per se. However, that doesn't mean that the game doesn't have any occasional moments where it might not be completely clear as to what the player should do next. For those moments and finding just about every secret the game has to offer, Prima's strategy guide is amazing. The guide doesn't only point out what players should do, it also directs them on a route through each mission that involves accomplishing all of the various mission goals, discovering hidden gems, and finding Boos as easily as possible. If there are easier or more expedient routes through the game's missions that involve doing everything possible in a single playthrough, I honestly can't imagine them.
Gamers who may be having problems with combat will be greatly helped by the strategy guide as well, especially later in the game when the strongest ghosts begin to emerge. The guide goes into as much as detail as possible, letting players know when they're most likely to encounter which ghosts and also how and when to engage them. The notifications on when group ghost captures may be possible can be especially useful, as group captures can slice combat times into a fraction of what they'd be if the player had pursued individual captures. Speaking of combat, I slightly disagree with the guide's occasional advice to capture Greenies (the most harmless ghosts) last, as I had tended to have major capture attempts interrupted by them from time to time. However, I also found instances where that advice was correct as well.
The multiplayer section of the guide is designated to just a few pages, which is apropos, since the multiplayer in Luigi's Mansion Dark Moon is very straightforward, with few significant variations. The guide's advice is as helpful as it can be and offers as many tips as it can, which will certainly be a welcome heads-up to players jumping into multiplayer for the first time or first few times. However, the multiplayer is so easy to grasp that with any kind of regular play, players will quickly learn how mostly everything functions. The guide does cover as much of multiplayer as possible, though, and the advice on some elements that the player might not know how to address at first glance (curses, for one) is welcome.
The layout of Prima's strategy guide is very easy to navigate, with good-sized screenshots to let players know where they're supposed to be or what they're supposed to be doing. Gems, Boos, and general cautionary advice are contained in medium-sized call-out boxes that flow well with the layout of the guide. Big text indicates when the guide's directions are shifting focus (i.e. from "Find the Poltergust 5000" to "Find the Strobulb"), so the text just isn't sprawling down the page with directions. The guide has a fun, colorful design and bits of concept art are integrated nicely throughout some of the pages, instead of being gathered into a section in the back of guide. The guide's design matches the fun/tiny bit scary mood of the game with appropriate bright and dark colors (i.e. green, purple, black, blue, and red) as well.
The guide does have a few minor trouble spots, though. Despite being mostly comprehensive, the guide had an odd few moments where it didn't mention treasure that was available. For instance, the guide doesn't mention that a stack of cash sits at the top of the West Garden area of the Haunted Tower and is available for players to collect for at least three missions. Another instance is the drill in The Old Clockworks, which can be vacuumed for coins for at least one or two missions. A strange instance also came up where the guide lists a mini-game in the Roundhouse Brawl mission as being available in the door of the northeast corner of the Canyon Narrows, but I was unable to find it there. Mentioning these errors is certainly nitpicking at an otherwise near-perfect guide, but they stood out because of the guide's generally very high level of accuracy.
Curiously, while the guide doesn't list the criteria or any general guidelines for gaining three-star ranks (the maximum rank) on missions, it does mention the factors that weigh in on how they're graded. I'm not sure if the ranking information was available, as I occasionally found that some missions that I thought I had performed badly on were graded better than I expected and vice versa. (Maybe the game uses some variables to generate the grade?) However, I did generally find that following the guide's advice and going through missions at a somewhat moderate pace had generally rewarded me with a two-star ranking, sometimes three.
The Luigi's Mansion Dark Moon strategy guide from Prima is absolutely worth picking up, especially for those who might need help. The guide really doesn't leave any stone unturned for the most part and is as clear and direct as possible with its instructions. From missions to boss fights to combat, the guide is just fantastic at directing players towards the fastest and easiest paths in the game. Plus, the guide's advice is simple and straightforward, making it accessible to a wide number of players across age groups. Prima's guide is able to help any Luigi's Mansion Dark Moon player accomplish just about everything they'll need to in the game and anyone in need of help from the guide definitely will not regret buying one.
SGR Rating: 4.5/5
Author: Nick von Esmarch
Publisher: Prima Games
Editions Available: Paperback
Acquired via Publisher