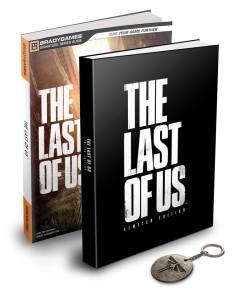 As The Last of Us rapidly nears its release date, BradyGames has confirmed the final covers for their strategy guides as well as the bonuses for the Collector's Edition. 
The CE contains every detail that the paperback edition has within, but it seems that the CE has a bit more information on the characters and has a supplemental story analysis. In addition, the hardcover edition comes with a fairly nice firefly keychain. It's nice enough to make me want to take it out of the packaging before shipping it to my reviewer (but I won't, I swear).
The Last of Us and its corresponding guides release on June 14th. And yes, we will be sponsoring a strategy guide giveaway with BradyGames.