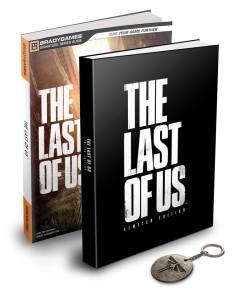 E3 may be going on the week that The Last of Us releases, but that just means those of us not going will get our hands on the game first. So why not increase your edge with a free The Last of Us strategy guide from BradyGames?
Yeah, that's what I thought.
I don't think I've ever been asked on Twitter about whether I'll have a FreeGuideFriday for a strategy guide as much as I have for this particular strategy guide. If the number of entries reflects this frothing madness, then I wish all of you the very best of luck.
Yes, it's another Twitter contest, and yes, it's for US contestants only. As another clarification, I do not know if the winner will receive a paperback or a Collector's Edition of the strategy guide. Please do not make specific requests as this is out of my hands.
Follow both @strategyreviews and @Brady_Games on Twitter.
Tweet something about wanting The Last of Us strategy guide from @strategyreviews and @Brady_Games for #FreeGuideFriday. Both twitter accounts must be mentioned as well as the hashtag and the following shortlink (http://strgygui.de/14wfDOE) to be a valid entry. If your tweet is creative, I'll most likely retweet it, if you care about that sort of thing.
All entries must be in by Friday, June 7th, at noon. I will randomly pick a winner at that time.
Good luck all!