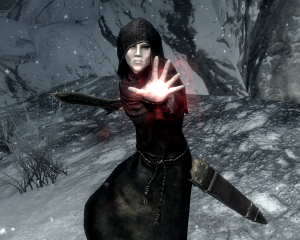 I had a bit of a panic this past week while playing Skyrim.
Since I'm a bit of a warrior-type gamer who is quite prone to the tried-and-true RARRRRRR! technique, I opted to join the Companions and follow those side quests. My first quest was to go kill the leader of a vampire clan, which kind of confused me, because I thought Skyrim didn't add vampires and werewolves until the Dawnguard expansion. But I accepted that I could be wrong and went on my merry way with greatsword in hand, hoping that the sword didn't have to be lined with garlic or made of wood. I destroyed the entire coven with little difficulty, but apparently I got bitten by one of the lesser vampires. I noticed that my max health was markedly lower than it was before, but like I said, I thought you couldn't become a vampire or werewolf until the Dawnguard expansion.
When I got back to town, people commented that I looked sick. As the sun set, text rolled across the screen saying I had a strange thirst.
OH NO. NO NO NO NO NO NO.
I have zero interest in becoming either a vampire or a werewolf. What can I do to stop this? Should I go rest? Is there a potion I can take? Crap, do I need to reload a checkpoint before I was bitten? I've heard you need to do that to prevent turning. Where is my last saved checkpoint? Two hours ago? CRAP CRAP CRAP! What the hell is wrong with me? Haven't I learned by now with RPGs to have like ten checkpoints for every 15-20 minutes of gameplay?
Wait, I have the damn Legendary strategy guide. Surely there is info in here about avoiding vampirism. If not, oooh boy how my fingers would have flown across the keyboard in rage.
Sure enough, the Skyrim strategy guide saved me. It had a lengthy discourse on vampirism, including how to become a vampire lord, that explained how to save yourself from this bloody disease. And thankfully, it wasn't too late to do so. I fast-traveled to Whiterun, purchased the right potions, and triumphantly cured myself.
I'm a little irritated with the game for not really explaining that there are diseases running rampant as well, as this is an entirely new concept for me with RPGs. I'm used to simple healing potions, curing petrification, and sleeping off whatever I may have contracted out in the field.
I now carry around at least 10 cure disease potions with me and I'm leveling up my Restoration skills so I can cure diseases in the future. I have no desire to become either Edward or Jacob.