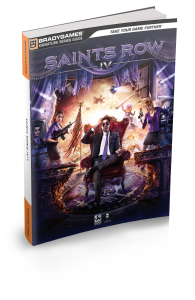 If you're planning on picking up BradyGames' strategy guide for Saints Row IV, then let me encourage you to order directly from BradyGames' store. How is that better than preordering from Amazon, GameStop, or Best Buy (or just waiting until next Tuesday and picking up the guide with your game)? Is a coupon code for 60% off enough of an incentive?
Starting on Sunday, August 18th, you can use coupon code SRIVBG60 when you check out from their online store for a whopping 60% discount. That's a better value than any other game store can offer you for buying the strategy guide with the game (typical discount is 15%). Please note that this discount is for US residents only (Sorry, international fans!).
Purchasing the strategy guide also includes a free DLC code for the BG-40 Weapon with skins.
In other words, with this coupon code, you're getting quite the bargain for a fantastic (at least I assume it will be) strategy guide for a zany game.