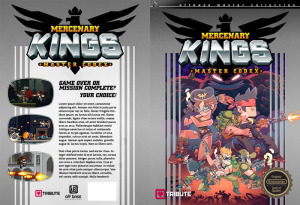 Off Base Productions, the strategy guide/web company who has written several strategy guides for BradyGames, has posted a Kickstarter campaign to raise funds for publishing print strategy guides for indie games. One disadvantage indie games have with not being triple-A games is that the only way they will ever get a strategy guide is via online services, such as GameFAQs or even Prima Games' latest trend of offering free strategies online.
While most people prefer looking up tips and tricks online, Off Base has feelings about print strategy guides quite similar to my own:
A strategy guide is meant to be a companion for the reader, helping them to advance when they're stuck, plan out the progression of their character, or point out interesting areas ripe for exploration. It's your field guide for a multiverse of experiences. But in the world of YouTube and Wikipedia, the printed strategy guide has become no more than an upsell statistic for game store clerks at worst, or a throwaway object never to be looked at again when the game is over at best.

The staff behind this project wants to create a guide that works against this paradigm by creating a high-end, highly collectable object akin more to a well-crafted novel or a premium graphic novel – something that is a joy to hold, flip through, read, and proudly display on your shelf. We want to publish a piece that supports the experience of a game while reflecting its creative team's efforts and talent.
Their first foray into self-publishing a print guide is for Mercenary Kings, an upcoming 2D action game on Steam that quite honestly, I haven't heard of until now.
I would love to see this project succeed. In fact, I am going contribute to this campaign on behalf of SGR to show my ever undying support and love of print strategy guides. I may never buy this game, but I want to see Off Base succeed here so that more print guides for indie games can be made. I can't imagine a better way to support further development of indie games than to see print strategy guides for them.