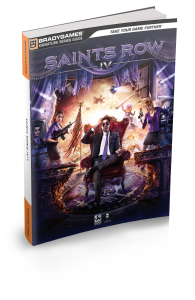 I admit it's 100% my fault for the delay in getting a Saints Row IV strategy guide giveaway for FreeGuideFriday underway. I was a little preoccupied last week, and it hit me Sunday morning at the hospital that I never set up contest. Fortunately for all of you, BradyGames is still willing to (and has a copy to do so) give a copy away of the Saints Row IV strategy guide! From what I've read of the game reviews, this world seems to be almost as open and expansive as Skyrim, so a strategy guide will definitely be a lovely companion as you save the planet from alien invasion…as a leader of a gang… Maybe we shouldn't play close attention to the details.
If you'd like a copy of this strategy guide, it's open up to both Twitter followers and Facebook page fans. You still have to be a US resident, though. If you happen to follow us on Twitter and Facebook, then you can enter on both places have two entries! Winner will be picked on Friday and will be notified via DM on Twitter or private message on Facebook.
Ready to read the rules before entering?
Twitter Contest Entries
Follow both @strategyreviews AND @Brady_Games on Twitter.
Tweet why you want to win the SRIV strategy guide from @Brady_Games and @strategyreviews for #FreeGuideFriday. The hashtag and mentions of both SGR and BG must be in your tweet to be a valid entry. You must also mention the SRIV strategy guide in some form, or how will I know what guide you want?
Facebook Contest Entries
On the SGR Facebook page post announcing this contest (hint: it has a link to this article), leave a comment saying why you want to win the SRIV strategy guide.
In your comment, be sure to end the comment with the #FreeGuideFriday hashtag (for whatever reason FB has hashtags now).
One winner will be selected randomly from both pools of entries, so if you're a fan/follower of both accounts, then definitely enter both realms! Winner will be chosen around noon (I can't guarantee a specific time with my current life change), so be on the lookout on both Twitter and Facebook!
Now it's time for me to put the batteries in my dubstep gun from my SRIV Collector's Edition and go scare my dogs while the baby sleeps. Hee.