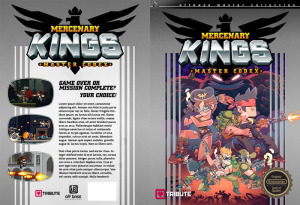 Much to my great disappointment, I received an email yesterday from the Off Base Productions' Kickstarter campaign that the fundraiser was not successful, and it is tabled for now.
I had a feeling this would happen when at about a week out from the goal date, the campaign still needed over $40,000. Do I think they were too zealous with their goal? Not at all. I know publishing a book takes lots and lots of money, especially when you need to pay for art work, consultation time, the writing, printing costs, etc., etc., etc.
The one light I do see at the end of this tunnel is from a tweet from the Off Base team, saying that they are going to "go over alternate plans." Whether this means a different fundraising avenue or a different type of strategy guide, I have no idea, but I'm so pleased that they aren't giving up on this possibility.
It probably won't happen for Mercenary Kings, sadly enough, but I'd love to see Off Base or any other publishing company take on the idea of creating print strategy guides for indie games. I, with SGR, will proudly and gladly support any fundraising endeavor for similar projects. My strategy guide shelf just isn't going to fill itself!
Please try again, Off Base Productions! I know there's enough interest out there for print strategy guides!