When I heard Prima Games was going to publish a new strategy guide for the HD Remake of WindWaker, I was just expecting something along the lines of what they did for the remake of Ocarina of Time. The strategy guide would be virtually the same but with different controls and maybe a more extensive appendix.
So when the guide appeared on my doorstep yesterday, my jaw dropped in absolute surprise. Take a gander at why below.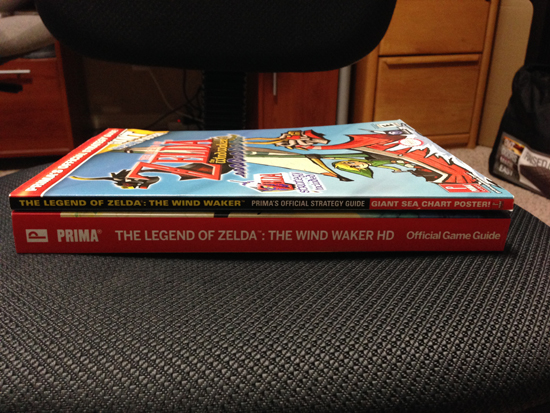 The original WindWaker strategy guide from 2003 is on top. It's a grand total of 192 pages and includes a ginormous sea chart poster (that I used as a bookmark). It also includes a strategy guide for Ocarina of Time, which was included with the preorder, albeit a very miniscule guide.
The monstrosity on the bottom is the new WindWaker strategy guide for the HD remake. It contains 352 pages and a sea chart poster that looks a lot like the original (Hey, I have a new bookmark!). Steve Stratton is an author on both, but he has different co-authors.
I am fascinated at what could possibly be in nearly 200 extra pages, especially since it only covers one game. When I review this strategy guide, a comparison from the original is most definitely in order, just for my morbid curiosity.